Spain news
Del Bosque reassures Italy
Spain coach happy with his attacking options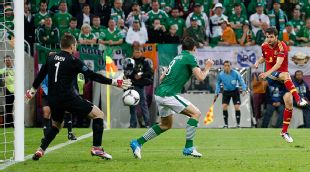 Spain manager Vicente Del Bosque has reassured Italy that his side will go all out for a win in their final Group C game with Croatia.
A 2-2 draw between Spain and Croatia would take the two sides through to the quarter-finals, irrespective of what Italy do in their final game against an Ireland side who are already eliminated. The conspiracy theorists are out in force, but Del Bosque has insisted the defending champions will honour the traditions of the game.
"We have an example of how to behave from the supporters and players of the Irish team who have given prestige to football," Del Bosque told Marca. "We are sportsmen and the Croatians are as well, therefore we will go out to win.
"There is no possibility of planning a draw that favours us, I haven't even done the calculations. The only thing that interests us is winning."
As manager of the world and European champions, Del Bosque has a wealth of options at his disposal. Fernando Torres was handed a start against Ireland and responded with two goals. He replaced Cesc Fabergas in the starting XI, but the latter – who climbed off the bench to score – remains firmly in the manager's plans.
""The other day we had confidence in Cesc and he rewarded us with a goal, but Fernando could also have played for precisely the reason of what he did against Ireland," Del Bosque said. "We are delighted to be able to have such great resources.
"We intend to take advantage of all the possibilities. We have 23 players and all of them could play. We have to choose and leave out people for every game and this will create debate if you don't win.
"I have the same confidence in Cesc that I had four days ago, but we have other options. Against Ireland we looked to dominate and have the initiative and for that reason we went for the speed and movement of Torres."