Czech Republic news
Rosicky confident of fitness
Czech captain hopeful of facing Poland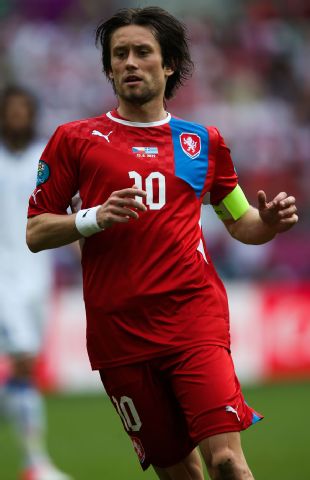 Tomas Rosicky failed to train with his Czech Republic team-mates again on Friday evening, but insists he will be fit to face Poland in their final Group A match.
Rosicky picked up an Achilles injury against Greece earlier this week and his been confined to gym duties since the knock. Despite his disrupted preparation, Rosicky remains confident he will be cleared to lead the Czech Republic when a decision is made on Saturday morning.
"I decided not to train [on Friday]," said Rosicky. "We will wait until Saturday morning and make a decision.
"The injury is getting better by itself so we will have to see about treatment just before the game but there is still time. I have enough experience that I don't think it matters that I have not trained. I feel positive about it."
Poland must claim all three in order to progress beyond the group stage while a draw may be enough for the Czech. History, though, is on the co-hosts side as the Czech Republic have not defeated Poland for 55 years, and coach Michael Bilek is hopeful skipper Rosicky and goalkeeper Petr Cech will start.
"I believe that Tomas will play but if he does not we have alternatives," Bilek said. "And I think Petr Cech will play as well. He has started training this evening but we don't yet know if he will play tomorrow. We won't know that until after the session."