Denmark news
Bendtner facing pants punishment
Striker revealed sponsor's logo on underwear during Portugal game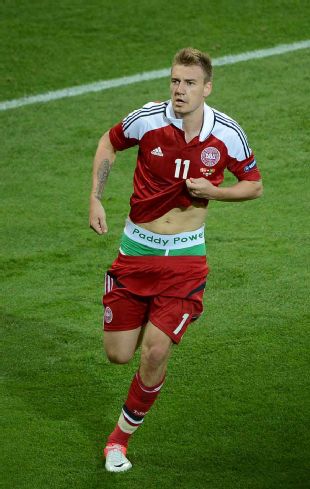 UEFA has confirmed that it will take disciplinary action against Denmark striker Nicklas Bendtner after he revealed sponsored underpants during his team's 3-2 defeat to Portugal.
Bendtner dropped his shorts below his waistline and raised his shirt to reveal a logo for bookmaker Paddy Power after scoring twice in the Group B match in Lviv on Wednesday.
The Danish football association has reprimanded him for his behaviour, and a UEFA statement said: "UEFA has announced that disciplinary proceedings have been opened against Denmark's Nicklas Bendtner for improper conduct at the Group B match against on Wednesday 13 June.
"The UEFA Control and Disciplinary Body will deal with this case on Monday.''
Bendtner said he had no idea he was breaking any rules, and insisted: "It is just a pair of lucky boxer shorts that I used in the first game as well and have used before the tournament. I didn't know I was breaking any rules, but I am aware of that now."
A statement from the Danish FA - sponsored by rival bookies Ladbrokes - said: "We have spoken to the player and he will not play in those [underpants] against Germany on Sunday."