Sweden news
Cautious England 'will suit Sweden'
Sebastian Larsson says Swedes will push forward in pursuit of crucial win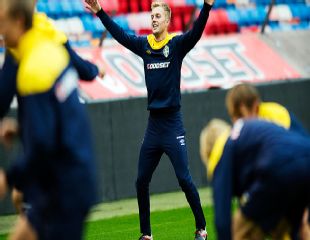 England will be doing Sweden a favour if they stick with the ultra-cautious tactics deployed against France, the Swedish midfielder Sebastian Larsson believes.
The Swedes need victory in Friday night's Group D clash in Kiev after a disappointing performance saw them slump to a 2-1 defeat against co-hosts Ukraine in their first group match.
Larsson says his side will look to push forward and attack, and believes a repeat of the approach that saw Roy Hodgson's team register only one shot on target in the 1-1 draw with France would suit Sweden's needs.
"I don't know if I expect England to be extremely defensive or not," the Sunderland player said. "It is an important game for both teams. Both teams need the points. We know what we can do and, if we play to our capabilities, we are capable of beating England.
"If you face a team that is playing really defensively, you can play the sort of game we want to play. We want to push forward and, if we can keep playing in that way, we can create our chances."
Larsson admitted that Sweden - despite taking the lead through Zlatan Ibrahimovic – were well below par against Ukraine, for whom two Andriy Shevchenko goals proved decisive. "We did not reach the level we were looking for - not during the first half," he said. "We didn't get into the game, and it was hard."
The ex-Sweden star Freddie Ljungberg said that, with Andy Carroll widely tipped to start for England, he expected a more direct approach from Hodgson's team than they had shown against the French.
Six of the last seven goals conceded by the Swedes have been headers - including both Shevchenko's goals for Ukraine - and Ljungberg said: "They are putting Carroll in to exploit a problem for Sweden.
"When I was playing, Sweden's strength was being solid at the back and good in the air, so it is a bit of a surprise they conceded so many goals in that way. But because they have, I completely understand the reasoning behind Hodgson's tactics."

The Sweden coach Erik Hamren described Hodgson, who began his coaching career in Sweden in the 1970s, as "a really good coach and a really nice person as well."
Hodgson won seven league titles and two Swedish cups during spells with Halmstad and Malmo, and Hamren said: "He came to Sweden unknown but became a big name because of results at his clubs and took some new ideas into Swedish football.
"He is a big name in football and we will never forget what he has done for Swedish football. I am looking forward to meeting him [in Kiev], but I hope he is going to have most of the headaches after the game."
On Thursday, the former Sweden star Jonas Thern lashed out at England, saying the nation has a "chronic illusion of world football supremacy" and the national team plays a "predictable and stereotyped" game.
"Apparently the one shot towards the France goal over 90 minutes was all it took to ignite the chronic English illusion of world football supremacy," he said. "I said before the Euro finals started that Sweden would beat England, and I stand by that statement despite the horrific display [in a 2-1 defeat] against the Ukraine."
And the Sweden vice-captain Anders Svensson said arrogance was behind England's poor record in matches against his country. Until a narrow win against the Swedes in a Wembley friendly towards the end of last year, England had not chalked up a victory against them since 1968 - a run including four defeats.
The former Southampton player said: "I just think maybe you think you are a little bit better than you are - but we are a little bit better than you think we are."