Sweden v England
Sven warns of Ibrahimovic threat
Former England coach feels Sweden striker could prove the difference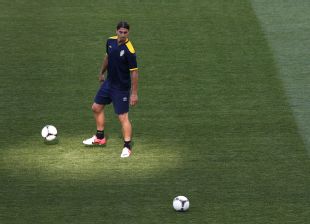 Sven-Goran Eriksson has warned England that Zlatan Ibrahimovic could prove the difference when the Three Lions take on Sweden in Group D on Friday.
England are looking to build on their opening 1-1 draw with France while Sweden must bounce back from their 2-1 defeat to co-hosts Ukraine if they are to keep alive their hopes of reaching the knockout phase.
AC Milan striker Ibrahimovic scored Sweden's only goal versus Ukraine and he is again expected to be a key player for his nation when they meet England at the Olympic Stadium in Kiev.
And Swedish coach Eriksson, who managed England for five years between 2001-2006, is predicting that Ibrahimovic could cause the Three Lions problems. He is quoted in the Sun as saying: "Zlatan is an international star and can trick any player.
"He would score goals for any Premier League team and I wouldn't be surprised if Zlatan scores the goal that wins the game. That would silence his critics in England - maybe forever."
Current England manager Roy Hodgson is also wary of the threat posed by the forward, adding: "He is an iconic figure in Sweden, where they are very much in awe of him. His career record is quite incredible. Maybe on one or two of the times he has come to England he had not succeeded when he has been built up to.
"But I have seen quite a lot of him over the years - first of all in 2000 the year after Malmo had been relegated for the only time in their history. Twelve years ago, as a fairly young precocious talent, he made sure they got straight back up again.
"I thought he was going to be something special then and of course everything he has done since then has proved it."