England news
Hogdson surprised by Parker comments
England boss feels team can work their way into tournament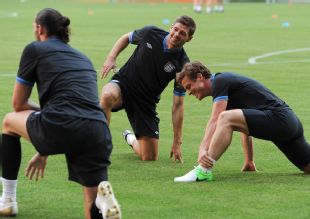 Scott Parker has been ticked off by manager Roy Hodgson for questioning England's tactics at Euro 2012.
Following England's 1-1 draw with France in their Group A opener on Monday, Parker admitted the Three Lions would need to up their game considerably if they were to progress. The Tottenham midfielder, who produced an excellent display in the middle of the park alongside Steven Gerrard, also suggested England would need to be more effective as an attacking force in their remaining games.
England face Sweden on Friday, with Hodgson tipped to field a more attacking side, and the England boss has warned Parker to toe the party line.
"I'm surprised Scott questioned how far it would take us," Hodgson said. "I can understand he said we showed heart and commitment but I thought he would have said that in a positive way.
"All tournaments are won by teams that are very well organised, very much together, very committed to the cause.
"We've seen many times in the past that teams that haven't been at all fancied at the start have used these qualities to go far and sometimes win the tournament.
"I think we always show ambition when we play. We didn't lack ambition in the last game but every game is different, every game poses a different threat."
Looking ahead to the meeting with Sweden, Hodgson said: "I'm hoping we will have more of the ball in the important areas and hope we will pose a lot of questions for the Swedish defence."