Croatia news
Pletikosa fears adaptable Italy
Slaven Bilic's side looking to maintain momentum after win over Ireland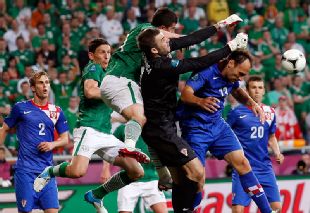 Croatia goalkeeper Stipe Pletikosa has said his biggest fear about facing Italy is their tactical flexibility.
Croatia go into their Group C match against Cesare Prandelli's team full of confidence after a fine performance and 3-1 victory against Ireland put them top of the pile.
But Pletikosa warned that the Italians have plenty of ways of making life difficult for Croatia in Poznan on Thursday night, saying: "I think the biggest threat of Italy is they can choose different tactical shapes.
"They know how to play on a high level. They are unpredictable, and I hope we have the strength to take them on and get a good result."
The keeper's analysis of Italy provides a mirror image of the way in which Prandelli sees Slaven Bilic's side, who were inspired to victory by striker Mario Mandzukic.
Prandelli believes Croatia's ability to adapt their tactics as a match evolves could make things tough for his men, whose opening group game brought them a 1-1 draw against defending champions Spain.
The coach explained: "This is a different rival to Spain, and even more dangerous because Croatia can change their style of play during a game. Croatia are unpredictable ... we need to be all the more prepared than we were against Spain."
Croatia have never lost a competitive game to Italy, but Bilic said that counted for nothing as he looked for the victory that would secure a quarter-final place.
"I don't believe that much in tradition, but it's nice to know that we never lose against Italy,'' he said. "We played very well against Ireland - we outplayed them physically, tactically and psychologically. We must remain at this level if we are to win."