Focus on Sweden
Ibra in the spotlight
Sweden's striker takes centre stage against England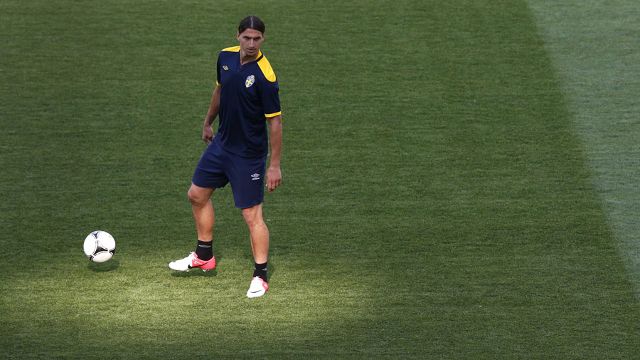 Modesty never was Zlatan Ibrahimovic's strong suit. "I'm just one part of the overall picture," the striker replied when asked about his role in Erik Hamren's Sweden side ahead of their Euro 2012 opener against Ukraine. He left that to sink in for a second before clarifying: "Quite a big part."
None could dispute that assessment. Quite aside from the fact he is Sweden's captain, Ibrahimovic is also the team's one bona fide superstar - a player who has racked up combined transfer fees of more than €100 million over the course of moves to Ajax, Juventus, Inter Milan, Barcelona and AC Milan and is now reported to be the subject of a €30 million bid from Paris Saint-Germain even as he approaches his 31st birthday. He has won Sweden's Golden Ball award – given to the nation's best footballer – in six of the past seven seasons.
Little wonder Hamren made it his top priority to bring the forward back into the fold after being appointed manager in late 2009. Ibrahimovic had declared his international retirement after Sweden failed to qualify for the 2010 World Cup, but Hamren flatly refused to accept the decision. "Erik is a pig-headed pest," Ibrahimovic would reflect in his autobiography. "And I like pig-headed pests."
It took the manager many months to wear down his target, but Hamren understood better than most how Ibrahimovic's mind worked. His sales pitch did not revolve around notions of duty and honour, but instead pride and glory. As well as the captaincy, Hamren promised Ibrahimovic open, attacking football, and a team built specifically to suit his talents. A team that the manager insisted could win Euro 2012 – if only Ibra would show them the way.
Most importantly, Hamren made it clear he was willing to play by Ibrahimovic's rules. "I treat everyone differently," he told reporters. "How I treat someone depends on their qualities, their ability, their experience."
Such sentiments were important for a player who has never been content to conform to anyone else's standards. While the strident criticisms of Pep Guardiola's coaching methods in his autobiography drew the most attention, Ibrahimovic also betrayed something else of his world outlook as he admitted to being bewildered at how great players such as Lionel Messi, Xavi and Andres Iniesta seemed never to step out of line.
"Nobody carried themselves like a superstar," he said. "If a manager in Italy tells his players to jump, they will ask him 'why should we jump?' Here they all leapt up at the slightest gesture, like trained dogs."
Indeed, Ibrahimovic had first opted out of international football in 2006 after Hamren's predecessor, Lars Lagerback, failed to exempt him from the usual team rules. Ibrahimovic, Christian Wilhelmsson and Olof Mellberg had been sent home early from a Sweden camp for staying out past curfew to celebrate Mellberg's birthday and, although the striker would agree to return a few months later, he confessed the same grievance was still on his mind when he stepped away again in 2009.
At Milan, it has been a different story. Even Ibrahimovic expected to be strongly censured after coming to blows with the centre-back Oguchi Onyewu during a training session just months after he had joined the club, but when he phoned the club's vice-president, Adriano Galliani, to apologise, Ibrahimovic was simply advised to put it behind him. "You have already said sorry," Galliani told him. "Now let's just look forward."
Not everyone would abide such a lenient approach, yet it is undoubtedly true that in Milan's case it has reaped dividends. Ibrahimovic's recent assertion that "like a good wine, I get better with age" prompted much ridicule, but it was not without foundation. His 35 goals in all competitions for Milan this season represented easily the best return of his career. They were also more than either Andriy Shevchenko or Marco van Basten managed in their best years with the club.
Such productivity also owes much to his modified role – Ibrahimovic is no longer being asked to line up as a classic targetman as he has been so often in his career. Instead he has been given licence by the Milan manager, Massimiliano Allegri, to drop deeper, drifting out to either flank as he sees fit, in order to make himself available as an outlet to the midfield. From here he has also been able to orchestrate play, contributing ten assists between Serie A and the Champions League.
Hamren would eventually follow suit, pulling Ibrahimovic back to play as a second striker. His capacity to influence a game from that position was evident on Monday against Ukraine: Ibrahimovic scored Sweden's only goal, hit the post and created a number of opportunities for team-mates. With his team trailing 2-1 in the 90th minute, he flicked a delightful pass over the hosts' defence, only for Johan Elmander to direct his shot over the bar.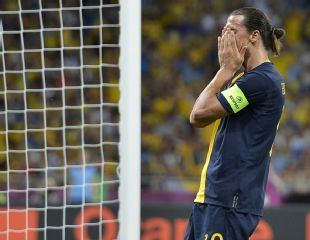 Ibrahimovic is understood to have exchanged angry words with several team-mates at full-time, with some reports suggesting he was furious at seeing them walk over to wave to their families when they ought to have been warming down. Having made the decision to come out of retirement, the prospect of exiting the tournament at the first hurdle has cut him deep.
Yet there are many who believe that, despite such fine individual performances, it is still Ibrahimovic himself who is holding this team back. He was their top scorer in qualifying with five goals, but all of those arrived in two games that finished as routs – a 5-0 win over Finland and 6-0 thrashing of San Marino. More damning still is the statistic that shows that, since Ibrahimovic made his debut for Sweden in 2001, they have won 55% of their European Championship qualifiers with him in the side and 100% when he is absent.
Such figures represent fuel to the fires of the striker's critics. In England, especially, he has often been lampooned as a big-mouthed underachiever, his poor record against Premier League clubs in European competition held up as evidence of his shortcomings. His anonymous performance in Sweden's friendly defeat to England at Wembley last November only served to reinforce such viewpoints.
On Friday, Ibrahimovic will have the opportunity to respond to those critics on a rather more significant stage but, while all eyes will be on Sweden's leading man, he will be hoping for a little more help from his supporting cast.