England news
Hodgson confident over duo
Midfield duo get England coach's backing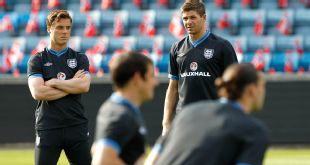 England manager Roy Hodgson is confident that Steven Gerrard and Scott Parker will be able to maintain their energy levels at Euro 2012.
Hodgson had suggested that some of his players might struggle to recover in four days following the Three Lions' hard-fought 1-1 draw with France.
With Gareth Barry and Frank Lampard both ruled out of the tournament, the fitness of Gerrard and Parker is key to England's success at the tournament, although Hodgson is confident there is sufficient cover in the squad.
"Scott's 31 and Steven 32, we're not talking about old players," Hodgson told BBC Radio 5 Live. "Certainly Sweden have players considerably older than our team and I think I heard that we are the third youngest squad in the tournament.
"Age doesn't bother me, obviously when you go into the third game you are going to be concerned for all your players, not just Steven Gerrard and Scott Parker. You're going to be concerned for them all whatever age they are because three games played in Ukraine in heat takes it out of everybody.
"But we have the players I think in the squad to step up to the plate and I'm pretty sure that first of all these players will be wanting to play all the games and they'll be working very hard as they've done after this France game to make certain they recover and are ready to go again."
England head to Kiev looking to build on their opening draw with victory against Sweden. Although the former West Brom boss refused to be drawn on naming his starting XI, he did confirm there would not be widespread changes.
"As yet we haven't actually picked the team of course and I am certainly not prepared to say at this stage whether there will be changes or no changes," he said. "But there won't be wholesale changes, that's for certain because we don't have any injury problems and the players who did well against France are all hoping to get picked to play again."