Poland 1-1 Russia
UEFA condemns violence
Governing body determined Euro 2012 will remain "peaceful and festive"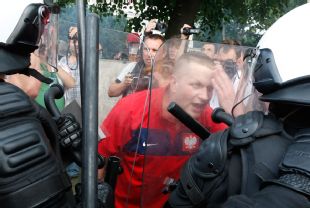 UEFA has released a statement condemning the "isolated incidents" of violence in connection with Tuesday's game between Poland and Russia.
The match took place during 'Russia Day' and, as thousands of Russia fans took part in a march in Warsaw, they came under attack from masked hooligans. Police, who used water cannons, tear gas and rubber bullets to disperse the crowd, arrested 157 Poles and 24 Russians. Reports suggest at least 24 were injured in the skirmishes.
Russian fans also unveiled a 'This is Russia' banner, which could be construed as a taunt relating to the Cold War, and may be deemed an extremist symbol.
UEFA has yet to announce whether any action will be taken against either side but said in a statement: "UEFA condemns the isolated incidents that occurred yesterday in Warsaw prior to and after the Poland-Russia match, when some groups of known troublemakers pelted the police with missiles and attacked fans irrespective of the team they were supporting.
"Those arrested and charged will have to be dealt with by the relevant authorities.
"UEFA's philosophy is to create a welcoming environment coupled with a low-profile approach to policing. The focus should be on facilitating the enjoyment of the matches by genuine football fans and isolating the tiny percentage of troublemakers.
"UEFA is in a constant dialogue with the public authorities in order to achieve this aim. UEFA is determined that the overwhelmingly peaceful and festive atmosphere that has so far pervaded at UEFA Euro 2012 will be continued right up to and including the final in Kiev on Sunday 1 July."
Polish interior minister Jacek Cichocki has said he would welcome strong punishments for those found guilty.
"When it comes to our hooligans, I hope the prosecutors and especially the courts will be strict," he told a news conference.