England news
'Sore' Johnson vows to play through pain
Liverpool defender having painkilling injections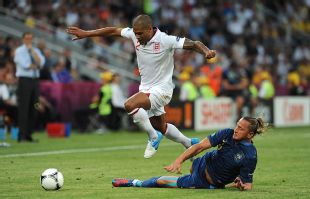 Glen Johnson has admitted he is having to play through the pain of a foot injury for England at Euro 2012.
The full back picked up the injury towards the end of the Premier League season with Liverpool and has been managing it in recent weeks.
He came through 90 minutes against France on Monday and it is likely he will have to be patched up and rolled out against Sweden on Friday.
"For the last four Premier League games I had a toe infection and was playing with three injections just to kill the pain," Johnson said. "I've been on antibiotics for pretty much five weeks now.
"I'm training but it is sore after games. But we are in the European Championship. I'm not going to let my little toe stop me from playing."
Another player battling injury is Scott Parker. The Tottenham midfielder is nursing an Achilles problem but has insisted he will battle on.