Netherlands news
Van Marwijk: We can beat Germany
Coach keeping tactics quiet ahead of crucial clash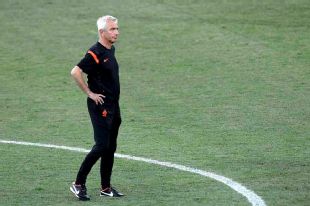 Netherlands head coach Bert Van Marwijk believes his side have what it takes to beat Germany on Wednesday, although he would not reveal his plans how to do it.
- Preview: Netherlands v Germany
Van Marwijk, whose side must avoid defeat following an opening game defeat to Denmark, was facing questions about whether his side would make a tactical switch ahead of the Germany encounter.
Having travelled to Kharkiv from Krakow with the team, the Oranje coach was still keeping his cards close to his chest.
"How do we beat them? Well I won't tell you that because I'll tell my own team that," Van Marwijk responded. "The Germans are very strong but we can also beat them. How we do that, I won't tell you now.
"We created lots of chances against Denmark and we have to take that with us against Germany," he said. "There's nothing nicer than playing against Germany; there's a lot of pressure but that's what's so nice about it."
Netherlands face off with Germany in Kharkiv at 19.45 BST on Wednesday knowing that failure against their traditional rivals would end their hopes of success at Euro 2012.