Croatia news
Croatia can reach semis - Kranjcar
Midfielder confident after opening group game win over Ireland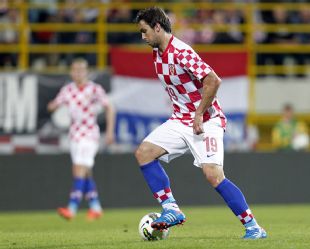 Croatia can reach at least the semi-finals of Euro 2012, midfielder Nico Kranjcar has said following his country's victory against Ireland in their opening game.
Although the Croats must still face Italy and Spain in Group C, the midfielder says confidence is high after their 3-1 dismissal of Giovanni Trapattoni's team.
"We are aiming high - we are a nation that believes, even in a group with Italy and Spain, that we can go through," he said. "Not many nations would say that.
"We believe we are going to prove we are a team that can beat anybody on our day. Hopefully, then euphoria will take us further, a step closer than four years ago, because we want to reach the semi-finals at least.
"We believe in ourselves, in our quality, and that we have a team and individuals who can win us these matches."
Kranjcar said he had expected Slaven Bilic's side to have a tougher time against Ireland, saying the Irish had caused fewer problems than predicted.
"Their only chances were from set pieces," he said. "They are going to find it tough in the next two games but, knowing them, they will give it everything. I think they are going to step it up."
Bilic took a more cautious approach, saying he preferred "not to speak about the next round because we are still at the beginning."
"We still have a great job to do," he said. "With the greatest respect to Ireland, I have to say that we have two games approaching that are even tougher tasks because we are playing the world champions and then ex-world champions, Spain and Italy. We are going to need a bigger boat for that."