France news
Evra: England played like Chelsea
Defender says Roy Hodgson's team made it 'really difficult to find space'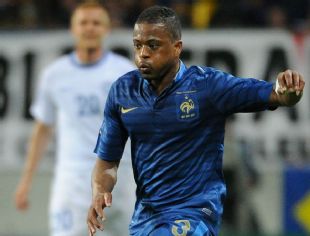 Patrice Evra said England adopted the tactics that got Chelsea past Barcelona in the Champions League semi-final as they left France frustrated by a 1-1 Group D draw at the Donbass Arena in Donetsk.
- Blog: Who's playing 'Football'?
- Blog: Building block for Blanc
Although Laurent Blanc's France dominated possession, they struggled to translate it into many clear chances against a disciplined English defence.
England took the lead when Joleon Lescott headed home from a Steven Gerrard free-kick, but Samir Nasri steered home a low shot to equalise before the break. France penned Roy Hodgson's men back after the leveller and for spells in the second half, and Evra, 31, said: "We are frustrated because I think we played much better.
"At times it was like there were 15 bodies in front of us. It was really difficult to find space. People laugh, but they played the way that Chelsea played against Barcelona.
"Maybe the fans want England to play more football - but if they win the tournament like that, they will be happy."
Nasri - named UEFA man of the match – said he was disappointed that France had only taken a point but believed the performance showed the progress made since a disastrous World Cup 2010 campaign in South Africa.
The result took France's unbeaten run to 22 games, and the 24-year-old added: "We are making a lot of progress. We have come from nothing in 2010, when we made a lot of mistakes. Today we are more mature. We can do something with this group."
He said his goal celebration, with a finger pressed to his lips in a shushing gesture, had been aimed at his critics in the French media, telling journalists: "That was for you."
Blanc urged his side to begin their next group match, against Ukraine, more positively and praised England for the way they started the game.
"England were excellent for the first 20 minutes," the France coach said. "We took a while to get into the game and, as ever, we were punished.
"Perhaps it was inexperience, but we didn't start the game as we'd hoped to. Had we not reacted we could have lost this game. I hope that doesn't happen again. In the next game, we have to get into it right from the outset."
But he added: "We deserved our equaliser and continued to create chances after that. France attacked a lot more than England. We played our game and, while we're not entirely thrilled with a draw, we're not disappointed either."