Ukraine 2-1 Sweden
'Emotional' Sheva hails fans
Veteran striker netted brace to seal 2-1 win over Sweden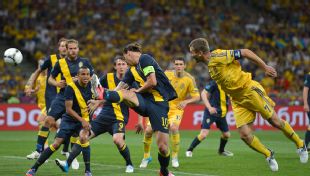 Andriy Shevchenko was overcome with emotion after scoring a memorable brace that ensured co-hosts Ukraine opened their Euro 2012 campaign with a 2-1 triumph over Sweden.
Ukraine suffered a setback in the second half of their Group D meeting with Sweden when Zlatan Ibrahimovic flicked home to open up a 1-0 advantage in Kiev.
But Shevchenko, 35, helped his nation complete a fine turnaround as he netted two headed goals to put Ukraine top of the standings, after France had drawn 1-1 with England earlier on Monday.
The former Chelsea striker, who now plies his trade at Dynamo Kyiv, said: "I'm overwhelmed with emotions, this is fantastic. I want to thank the fans. For us, every game is a final."
Shevchenko, whose last brace in a competitive game for Ukraine came in November 2004 versus Turkey, cotinued: "I feel that I'm tem years younger today. I want to say thank you to everyone who has worked with me over the past six months. I couldn't imagine that I'd be able to play because I had lots of problems with my knee and back.
"Lots of people gave me support and I must thank them because I'm in good condition today. It was probably one of the best games I've played in the last seven or eight months.
"It's a great day for Ukraine. We should go through this group, but we expect two more very tough games (against France and England)."
Ukraine coach Oleg Blokhin was unimpressed by Sweden's tactics and perceived lack of sportsmanship. "The Swedish team only played for a draw and looked only for counters through Ibrahimovic," Blokhin said.
"Also they weren't very fair because when our player was lying on the pitch and the referee should have stopped the game, they had a chance and scored. I really don't like it."
Sweden coach Erik Hamren branded his side "cowards" following their defeat at the Olympic Stadium. "We're not reaching the level we want to and that's my responsibility as a coach," he said.
"We didn't show the courage we were supposed to. Only five or six players did. We all need all the players doing that. We were cowards in the first half and should have done more. I'm not happy with the team, I was expecting more. The players do want it very much, but we should have scored with the three last chances we had.
"I'm not sure Ukraine were much better in the first half either, it was very nervous and there were a lot of mistakes from both teams."