Greece news
Santos urges Greece to start fast
Greek coach wants his side to make the running against Czech Republic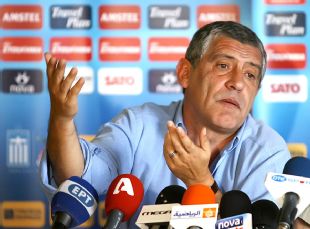 Greece coach Fernando Santos wants his side to make the running against Czech Republic, despite being delighted at the rearguard action they mounted in their Euro 2012 opener with co-hosts Poland.
The Euro 2004 champions looked to be heading for defeat on Friday when they went a goal down and had defender Sokratis Papastathopoulos harshly sent off but they battled back to earn a spirited draw.
Dimitrios Salpingidis struck an equaliser and Greece could have won the game when Wojciech Szczesny conceded a penalty and was sent off but Giorgos Karagounis missed from the spot.
And ahead of their crucial clash with the Czechs, Santos has told his side they must be fully switched on from the off.
"Whenever the going gets tough they manage to perform well," Santos told reporters on Monday. "We hope there will be no need for difficulties to show up for us to play our best."
Santos has a few selection headaches though, with Papastathopoulos suspended and his namesake Avraam being ruled out of the tournament through injury.
Midfielder Giorgos Fotakis is struggling with injury while Costas Katsouranis could revert to centre half alongside 20-year old Kyriakos Papadopoulos.
"I want to be clear that if Fotakis can't make it Greece has many alternatives to build up a very good starting 11," Santos said.
"From our part we have analysed the Czech team and we have done our homework with respect with what we have to do. What we must do is focus on the qualities on our team and the way we played in the second half."
Salpingidis, who scored Greece's goal in Warsaw, could also start and he was delighted to play such an important role for his country.
"I dedicate that goal to my parents who were in the stadium," he said "I feel honoured to still be able to represent my country and wear the national team shirt.
"Both of our upcoming games are difficult, Russia and against the Czech Republic. We will try to do our best and if we manage to qualify, we will all be very happy,"