Czech Republic news
Cech ready for Czech fightback
Chelsea keeper eyeing victory over Greece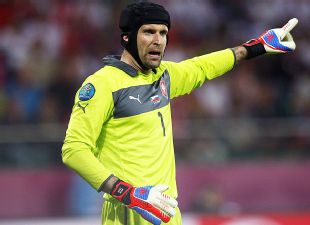 Petr Cech claims Czech Republic have shrugged off the misery of their defeat to Russia and are ready to revive their Euro 2012 challenge.
The Czechs were comprehensively outplayed by a classy Russian outfit, but they are not cast adrift as their Group A rivals Poland and Greece played out a 1-1 draw.
Greece are up next for Michal Bilek's side on Tuesday and Cech insists the players are ready to respond.
"I think the anger has changed into determination. Determination to fix the bad start we had in the tournament," Cech said. "We felt the disappointment immediately afterwards, for sure. We did not succeed in any way in that first match, but we know we have another 180 minutes to play to allow us to qualify for the quarter-finals. So we're determined to do just that."
Russia were full value for their 4-1 win, but the Czechs were guilty of making mistakes and Chelsea keeper Cech insists the players have held their hands up.
He said: "The only lessons we learned were not to make unnecessary mistakes and to play much more aggressively. They had a lot of space and they have some very good players, so they were able to use that.
"We attacked them too late in the game, and they had already created their chances and scored them. We do not want to repeat those same mistakes and we will, of course, play more solidly in defence."
Coach Michal Bílek has urged his side to cut out the mistakes that dominated their defeat to Russia and has admitted it is make or break against Greece.
"We'll definitely try to avoid the mistakes we made in the first match because if we don't, we won't win," said Bílek.
"I haven't yet decided whether I'll make any changes because we still have time to put together a winning team. We're under pressure but that's also what happened in qualifying.
"We managed to improve then, so I think it will happen again and we'll handle the remaining two matches well and qualify for the quarter-finals.
"It took us two years to put this team together and there are very experienced players. Rosicky, Cech, Plasil, Sivok and Hubschman are all players who've gone through many ups and downs.
"I believe they'll pick themselves up and keep the team strong in the dressing room. There's no reason to drop our heads and panic. We didn't handle the first match very well, it's not easy to take.
"But we'll pick ourselves up and play better in the remaining two games. We're strong enough."