Ireland 1-3 Croatia
Bilic buoyant after crucial win
Croats need one more win to make quarter-finals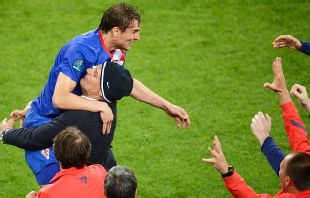 Croatia boss Slaven Bilic was in bullish mood after his side's 3-1 victory over Ireland in their Euro 2012 opener in Poznan.
Both nations knew a win in this game was imperative to give themselves the best chance of advancing to the quarter-finals, and Bilic's team showed greater confidence and deserved to take all three points.
They now go into Thursday's game against Italy knowing victory will guarantee a place in the last eight and a date with one of the teams from the group involving England and France.
"I was expecting this kind of result," said Bilic, who will leave his role with the national team after the tournament to take charge of Lokomotiv Moscow. "We were preparing for this victory. We knew everything about this Irish team.
"We knew we were the better team, but you never know before the match. I can just congratulate players from both teams. The match was very good. I'm completely satisfied with the way we played. We were really strong in midfield.
"I respect the Irish team. The Irish team didn't lose for the last 14 matches, they were in a group with Russia, they drew 0-0 in Moscow - this means they are a strong team. We played very well and we beat a strong team. From the first minute of the match, I was really sure, really confident.
"We were the better team on the pitch and it would have been really hard not to win this match.
"We were dreaming about this position. Probably, one victory will be enough to go to the quarter-finals."