Ireland 1-3 Croatia
Trapattoni: We have to believe
Defensive frailties cost Ireland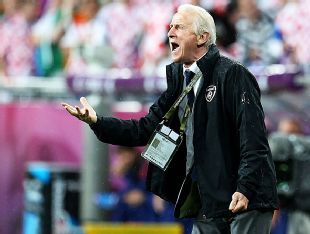 Ireland coach Giovanni Trapattoni said his side must believe they can pull off two of the shocks of the tournament against Italy and holders Spain to stay in the European Championship.
Sunday night's 3-1 loss to Croatia left Ireland staring at an early exit and they now cannot afford to lose another match.
Trapattoni was disappointed with his side's defending, and refused to blame the officials for a suspect offside call when Nikica Jelavic netted Croatia's third and the decision not to award a penalty when Robbie Keane appeared to be tripped in the box.
The 73-year-old Italian said: "We have to believe. We met a strong team, technical - we knew that before. But every game in this Euro can be a surprise. We have to believe this. Until now, we have not conceded a situation like this evening.
"The first goal is our mistake. Maybe, we have tension in this moment. The second goal was very important because it killed us. Our performance was not like our other performances. We played better in many games, and did not concede a goal. This game, we conceded three goals."
He could now make changes for the next group game against Spain. "It's early now. I know you want to know what happens, but we have to think about how the players are with fitness," he added. "Spain is another game and then we have to think very, very much.
"If I decide to change, it will not be because a player played badly or does not deserve to play. We have another game. Our opponent only drew and has only one point.
"It's important we recover psychologically and believe again because we have to remember how many games we had played without conceding a goal."