Croatia news
Srna predicts bright future for Bilic
Croatia skipper says coach 'learns something new every day'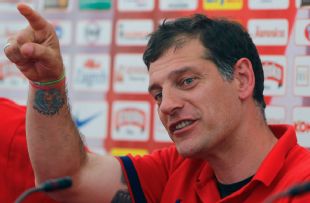 Croatia captain Darijo Srna has paid tribute to coach Slaven Bilic, who is leaving his post after Euro 2012 to take up the manager's job at Lokomotiv Moscow.
Bilic – preparing for his 60th game as the national coach when Croatia take on Ireland in Poznan on Sunday evening – took charge in 2006.
The 43-year-old, who made 44 appearances for Croatia as a central defender, "learns something new every day and has a bright future ahead of him," Srna said.
"There is a big difference in ability if you compare Bilic now to how he was ten years ago," he added. "He learns something new every day. He is a very young coach and he has a bright future in management ahead of him."
The Shakhtar Donetsk player praised Bilic's rapport with his squad, saying: "From his very first training session, he showed that he has something that some other trainers don't have - a relationship with the players.
"He is open, he shows how much he loves the players, how much he trusts them and how much he really supports them."
Bilic predicted a boisterous atmosphere at the Stadion Miejski, saying that the Croatia fans – although likely to be heavily outnumbered by their Ireland counterparts – would "give us positive energy."
He said: "They are loud enough. I'm sure they will be loud in the stadium. We are expecting about 7,000 supporters. It is going to be very loud. Believe me."
And he revealed that he felt his side could surprise Giovanni Trapattoni's Ireland, adding: "They know everything about them. We know everything about us - but maybe we have some surprise that I can't repeat to you. We have to play a huge match. If we play as well as we can tomorrow we will win."
The Ireland striker Robbie Keane said he hoped the team could bring joy to their country after recent economic difficulties.
"These finals have been a long time coming, and it's great to see the atmosphere of the nation," he said. "The country has been on its knees for a few years and our qualification has given it a lift. It's up to us to give the people as much joy as possible."