England news
Hodgson lifts lid on Ferdinand snub
England manager didn't want veteran defender to sit on the bench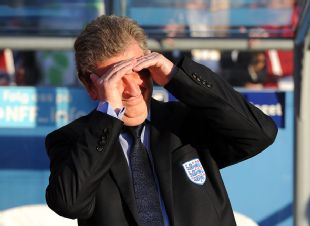 England manager Roy Hodgson has lifted the lid on his decision to omit Rio Ferdinand from his Euro 2012 squad, claiming that the Manchester United defender should not be picked if not considered a member of the starting XI.
Ferdinand's omission from the original 23-man squad baffled many in the game, and the sense of confusion only heightened when, after Chelsea's Gary Cahill was ruled out of the tournament due to injury, Liverpool's Martin Kelly came in as a replacement ahead of Ferdinand.
Hodgson has always insisted Ferdinand was left out for "footballing reasons", and not because of his relationship with John Terry. Terry will stand trial on July 9 charged with racially abusing Ferdinand's younger brother Anton, something the Chelsea captain denies.
And Hodgson has now, ahead of England's Euro 2012 opener with France on Monday, opted to shine some light on those "footballing reasons".
"Rio Ferdinand for me is not a player that you call up as a substitute, or to cover for the players that you have," Hodgson said. "We turned to Martin Kelly because I knew he was going to be someone who would be very useful to us.
"He's very happy to be here knowing that his chances of playing a big part in the tournament are quite small. You don't turn to people like Rio Ferdinand for that."
"People think I looked at two players when Gary Cahill was injured and chose Martin Kelly," said Hodgson. "But there was never any question of that. Rio Ferdinand never came into consideration.
"I had my squad of 23. I knew, in Cahill's absence, who would probably be the starters and who would be the covering players."
In fact, Hodgson's first thought was Tottenham defender Kyle Walker, who has already been ruled out once by a broken toe, only to be told the injury had not healed.
Kelly was the next best option, and Ferdinand's status never changed that conviction.
"I made a decision, a very clear one, a very easy one," said Hodgson. "The difficult decision was whether to take Rio in the original 23. That took a lot of soul-searching."