Euro Day 1 Wrap
Thrilling opening act in Poland
Roger Bennett rounds up a surprisingly exciting first day at Euro 2012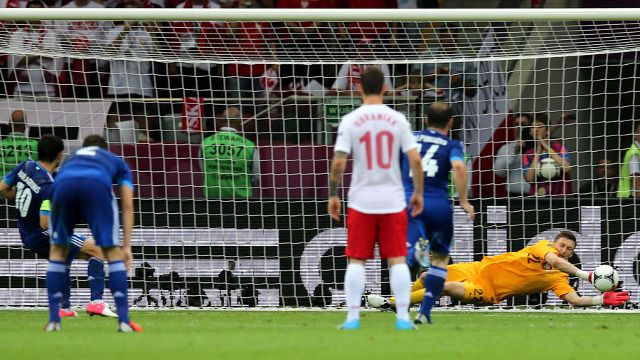 At last, some football to distract from the ongoing disintegration of Poland's and Ukraine's internal affairs. The monkey chants that greeted the Dutch team during its practice session in Krakow, Poland, ensured Euro 2012 has been stained by the most negative pretournament storylines since Argentina's military junta prepared for the 1978 World Cup.
Tournament organisers UEFA might have worried the four teams scheduled to open its flagship tournament would provide little respite. By quirk of draw, Group A was the only quarter of the bracket to lack a team ranked in FIFA's top ten. Many in the English media quipped that Russia, Czech Republic, Greece and co-host Poland - ranked No. 62 by FIFA - composed the "true Group of Death", threatening danger less to their opponents and more to television viewers unfortunate enough to watch them play.
Organisers and media need not have worried. Tournaments are often slow-starting affairs yet, on Friday, all four teams dispensed with the traditional strategy of caution. In doing so, they played the role of eye-catching opening acts, setting the stage for this weekend's headliners with aplomb.
Poland and Greece had enjoyed 15 previous meetings dating all the way back to 1963, most of which were savoured by only their fans and etymologists who delight in the hard consonants favoured by the Poles lining up against the Greek over-reliance on vowels. But the excitement incited by the run-up to an international tournament is akin to that experienced when boarding a rollercoaster - the nervous charge as the safety bar locks into position and the thrill of release as soon as the momentum begins.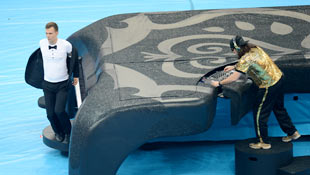 Friday's games were all about that thrill of release, a sense of anticipation that was only heightened by the spectacle of an avant-garde opening ceremony that had the creative gall to feature a classical pianist sporting that lost '80s fashion staple, the tuxedo T-shirt.
Most Poles I had spoken with ahead of kick-off were bullish about their nation's ability to host the Euros but less enthusiastic about their national team's ability to register its first-ever tournament victory. It is an opinion typified by a young Polish bartender I met on a recent visit to London, who explained his pessimism by blaming the traditional pattern the Polish team experiences in international competition.
"We Poles only ever have three games in every tournament," he said sombrely. "The first we call 'The Highly Anticipated Opening Game'. The second is known as 'The Win-or-Go-Home Game'. And the third," he added sadly, "is always known as 'The Final Game of Honour'."
Well, 2012 might prove to be the year the White and Reds break this hex. In a game of high drama yet questionable quality, they managed to overcome the glaring lack of vuvuzelas by playing fluent, confident football for long stretches of the first half. The Greek defence was repeatedly ripped apart by the Poles' pace, power and movement, typified by Eugen Polanski's lung-busting runs through the heart of the Greek midfield.
Robert Lewandowski became what Siphiwe Tshabalala was to World Cup 2010. The Dortmund striker, rumoured to be making Manchester United reach for their chequebook, triggered delirious scenes of national joy, confidently finishing a flowing move with his head to send the host country into the lead.
After Poland made and spurned two more clear-cut chances, their adrenaline began to flag. Referee Carlos Velasco Carballo did his best to restore the co-host's momentum. The Spanish disciplinarian, who had seen fit to dole out 16 red cards in 29 La Liga games this season, awarded Greek defender Sokratis Papastathopoulos a second incomprehensible yellow card that was less a bookable offence and more a draconian personal vendetta. How poor was the referee's decision? Bad enough to ensure that chronic racism and monkey chants will be shunted out of the morning's headlines to be replaced by a football writer's favourite grindstone: incompetent refereeing.
Reduced to ten men, Greece were galvanised after the half-time break, netting a goal even the referee could not take away. Arsenal's talented yet occasionally erratic Wojciech Szczesny generously flung himself aside to vacate the goal-line, allowing Dimitris Salpingidis to equalise with frenzied delight. The shot was the first one Greece had directed on target, and the bearded Salpingidis, who had just come on as a substitute, wheeled away with all the frenzy of a young Robin Williams.
In the 69th minute, the game was turned on its head when Salpingidis charged on to a ball chipped over the top, and Szczesny obligingly stopped his run, clipping the Greek with his right leg. After receiving a red card, the Poland No. 1 watched with wonder from the dressing room as his replacement, Przemyslaw Tyton, parried a poorly struck penalty from Giorgos Karagounis. A game of perfect symmetry, in which there were two red cards, two goals and two substitutes who made the difference, ended as a draw. Both sides will rue their failure to win it, yet both will be privately relieved not to have lost.
It all turned red
In the second game, Russia thrashed a disorganised Czech Republic 4-1. The Russians - who fielded a support group for Premier League flops in Andrei Arshavin, Yuri Zhirkov and later, Roman Pavlyuchenko - repeatedly demonstrated their pace and intelligence to overwhelm their opponent's naive defence. Alan Dzagoev, Aleksandr Kerzhakov and a rejuvenated Arshavin ran rampant. Arsenal fans wondering why their fallen hero offers such menace in the red of a Russian jersey need look no further than the charitable Czech defence, which offered him acres of space in which to operate. It's a luxury Arshavin rarely experienced in the English Premier League.
Dzagoev opened the scoring before Arshavin slipped an exquisite pass to the feet of Roman Shirokov, who dinked his finish deliciously over a cruelly exposed Petr Cech.
After Vaclav Pilar briefly pulled the Czechs back into contention in the second half, the game deteriorated as players on both sides gave away possession cheaply and finished sloppily in a manner that would have shamed even Antigua and Barbuda. Dzagoev killed the game with a fierce drive, his second goal, which secured the three points and simultaneously made his agent's phone start to ring. The 21-year-old CSKA Moscow midfielder demonstrated a potent mix of strength and spatial awareness that Premier League teams cherish.
It was left to English referee Howard Webb to signal the end of a surprisingly engrossing first day of Euro 2012. The opening rounds of international competitions traditionally offer all the excitement of a lukewarm bath, as teams adopt conservative tactics to mitigate risk. On this day, we saw in Russia and Poland two teams whose movement and creativity might surprise, and one, Greece, whose dogged determination should never be written off.
On Saturday, two of the pre-tournament favorites lumber onto the field. The Dutch tangle with Denmark, and the Germans battle Cristiano Ronaldo's Portugal. The Group of Death in its truest sense, as best described, perhaps unintentionally, by Herman Melville when he wrote in Moby Dick: "It is only when caught in the swift, sudden turn of death, that mortals realise the silent, subtle, ever-present perils of life."
Roger Bennett is a contributing writer for ESPN The Magazine and ESPN.com. Follow him on Twitter @rogbennett.