Focus on Ireland
Palmer: Ireland's wealth of optimism
Kevin Palmer explains why Irish fans are hoping the football team provides some cheer at a time of financial uncertainty on the Emerald Isle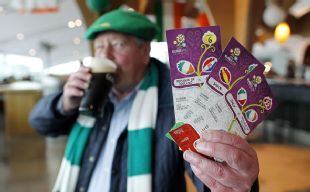 As kick-off to Republic of Ireland's Euro 2012 opener on Sunday draws ever closer, forlorn fantasy has been replaced by genuine optimism that success could be on the horizon for Giovanni Trapattoni's underdogs.
A menu of fixtures including clashes with a dangerous Croatia side, tournament favourites Spain and an Italian team eager to emerge from their latest match-fixing soap opera with another triumph would hardly seem to whet the Irish pallet in their first European Championship for 24 years. But the opposite emotion is seeping out of the Emerald Isle.
For an Irish nation stripped of their trademark joviality by an economic recession that is now biting deep, Euro 2012 has become a beacon that all sufferers can rally around, with their desperation to banish the thoughts of financial despair fuelling an upbeat swagger.
Led by their indefatigable 73-year-old Italian coach, who will become the oldest manager in European Championship history when he leads his team into battle against Croatia in Poznan this Sunday, what was once viewed as Ireland's mission impossible in Group C suddenly seems to be a task of the more manageable variety.
As ever, their success will need to be led by the striker whose goals have carried the country's fortunes for more than a decade and as captain Robbie Keane assesses the challenge in front of his team, the LA Galaxy frontman does not shy away from the reality that Ireland's gameplan this summer will favour substance over style.
"Mr Trapattoni has made us a hard team to beat from the day he arrived and he will not change even though we are up against quality opposition in a major tournament," says Keane, who is set to be asked to play in a more reserved role at Euro 2012, as Ireland prepare to adopt a 4-4-1-1 line-up to try to bolster their midfield strength. "This team will go onto the pitch for our first game against Croatia knowing exactly what we have to do, what our jobs are. Then, we have a group of lads who stick to the task and don't try and do something for their own good at the expense of the team.
"The boss is not one to fiddle around with tactics and you would never see him ripping up the plan after 20 minutes and trying something different. He sticks to a system, believes in us and the stability he has brought in has served us well since he came into the job.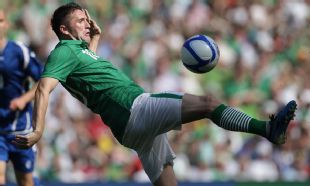 "We are up against opponents who like to pass it around at Euro 2012 and we may come off the pitch looking at statistics confirming we have only had 30 or 40%t of the possession, but it doesn't mean we cannot make the most of the time we have on the ball. Any team who plays against this Ireland side will know we are tough to break down and I'm sure we will give a good account of ourselves."
Newly appointed Norwich City manager and former Ireland defender Chris Hughton is among those backing Ireland to emerge from their daunting opening round of fixtures, as he picks out skipper Keane as a central figure in the tactical masterplan being hatched by the veteran Trapattoni.
"In a well-drilled team that knows its limitations and its qualities, Keane acts as the flexible pivot, given a license by Trapattoni to roam into areas where he can disrupt their domination of possession," states the ever-articulate Hughton, who worked with Keane in coaching roles with Tottenham and Ireland.
"When Ireland have the ball, the opposition cannot hurt us and Robbie appreciates his duty to influence the overall game is as important as scoring a goal. Don't forget, stopping your rival is just as important as doing what you do best and the longer Ireland can hold onto the ball this summer, the better chance they will have of coming through this challenging opening group. Of course, we know he can score vital goals as well, so he will be Ireland's key man.
"How well can Ireland do at Euro 2012? They may struggle to score enough goals to win games, but they are capable of avoiding defeat in the Croatia and Italy matches and maybe even sneaking a win. Spain will be tougher, but four points could be enough to get Ireland out of their group. It would be a fine achievement if we can get there."
While Group C rivals Croatia and Italy wallow in misery inspired by injury problems, off-field scandals and all-round chaos, the Irish are skipping into this tournament with, dare we suggest, English-style over-optimism.
It's a confidence that key defender Richard Dunne believes they have every right to revel in. "We are unbeaten in 14 matches and have proved we are a match for the best sides on our day, so why shouldn't we go into this competition feeling as if we can do well," opines the experienced Aston Villa centre-back, who has shaken off fitness fears in the last few weeks to make it to Euro 2012 in good shape.
"You look at the group of lads in our squad and there are no egos here. We have been together for three weeks now and there hasn't been any problem with anyone. We are friends going on this adventure together and that bond can stand us in good stead.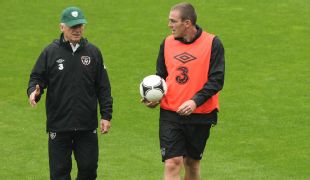 "Not too many outside of our group believes we can get through to the quarter-finals of this competition, but we all have faith in our abilities to do something this summer. Maybe a few more will believe us in 10 days' time."
So the stage is set for an Irish side backed by around 10,000 travelling fans to become one of the big stories of Euro 2012. While it may take more than a couple of sporting successes to kick-start a nation embarrassed by their reliance on the charity of European neighbours to bail them out of financial despair, at least the Irish have remembered what it feels like to dream all over again.