Euro 2012 news
Poll: Refs pressured to be weaker
Former Premier League referee believes officials could be firmer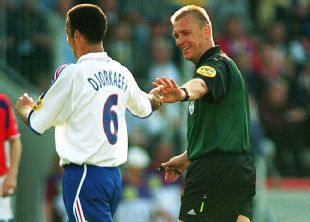 Referees at Euro 2012 will be forced to sacrifice a firm approach in order to avoid sending players off in the latter stages of the tournament, according to former international official Graham Poll.
Poll, who was a Premier League referee for 11 years before retiring in 2007, says the pressure to ensure no stars miss out on appearing in the Euro 2012 final, will mean that leniency will reign supreme, particularly towards the end of the competition.
"Of course you want the best players protected, you want to see Cristiano Ronaldo shine, but if anything I think things have eased up and refereeing has become very weak," Poll told ESPN.
"But that is what the fans want, its what the everyone wants, because no one wants to see a player missing the final through suspension, like Laurent Blanc did at the 1998 World Cup. The refereeing starts off being tough in the group stages and then eases off. "
And Poll insists UEFA has not told referees to take a tougher stance than usual at this month's European Championship.
"No there wont be the usual crack down by referees everyone talks about before a tournament starts." Poll said. "I have spoken to [England's referee at Euro 2012] Howard Webb at length and he has not been given any instructions by UEFA to crack down on anything.
"UEFA is far more laid back and low key. Unless players are diving in and doing crazy tackles I think the referees will take a very measured approach."
Graham Poll was speaking on behalf of Blue Square Bet. Visit www.BlueSq.com for the latest live odds on Euro 2012.