Netherlands news
UEFA aware of racist abuse
UEFA acknowledges Netherlands players were racially abused during training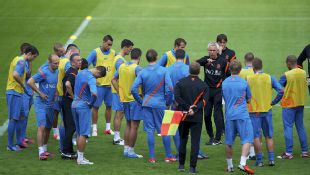 UEFA has acknowledged "isolated incidents of racist chanting" took place during Netherlands' training session in Poland on Wednesday but will not take action at this stage.
The black players in the Dutch squad were reported to have been subjected to monkey chants during the session in Krakow on Wednesday, and captain Mark van Bommel has been strong in his condemnation of the affair.
"It is a real disgrace, especially after getting back from Auschwitz, that you are confronted with this," Van Bommel said after the incident at Wisla Krakow's Stadion Miejski.
However, the Dutch football federation, which informed UEFA it "did not believe the abuse was racially motivated", told the BBC it had decided against making an official complaint. As a result, a UEFA spokeswoman said: "We have no plans to launch an investigation."
UEFA, though, later released a statement confirming it was aware that that the abuse had taken place.
It read: "UEFA has now been made aware that there were some isolated incidents of racist chanting that occurred at the open training sessions of the Dutch team in Krakow. UEFA has not yet received any formal complaint from the KNVB (Dutch football federation).
"Should such behaviour happen at further training sessions, UEFA would evaluate the operational measures to be taken to protect the players. UEFA has a zero-tolerance policy when it comes to discriminatory behaviour and has given the power to referees to stop matches in case of any repeated racist behaviour."
There had been suggestions the noises, which occurred as the players passed fans while doing laps of the pitch, were merely boos prompted by either a frustration among Wisla fans that other players were using their club's stadium or a dissatisfaction that Krakow is not a host city for the tournament.
However, Piara Powar, the executive director of Football Against Racism in Europe, stressed that there has been no reason to doubt Van Bommel's version of events.
"Van Bommel has no reason to invent such a claim," Powar said. "We would side with Van Bommel. It's quite clear it happened, and if there's some confusion within the governing bodies, the KNVB or UEFA, then that's regrettable. In our view, the incident took place."
He added: "If the captain says, 'My team-mates were racially abused. I heard it. I was there at the ground level', then one expects any FA to back the captain. We're very clear with UEFA that any incident of this kind needs to be looked at."