Poland v Greece
Smuda senses excitement in Warsaw
Co-hosts ready to kick-off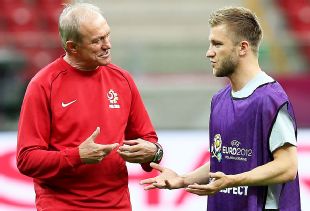 Poland coach Franciszek Smuda has had to balance expectation and excitement as Euro 2012 has approached, and on Friday he will get the chance to put all that hard work into action when the co-hosts kick-off the finals in Warsaw.
Their appearance four years ago in Austria and Switzerland was the first time they had made the European Championship finals, and in facing Austria in the group stage it gave them a taste of what to expect on home soil.
Smuda knows there will be an electric atmosphere inside the National Stadium when they face 2004 champions Greece and he knows that while there will be nerves in the camp the fans can help them overcome the jitters. Switzerland and Portugal both lost the opening game in the last two Euros.
"The atmosphere is really becoming better and better," he said. "We can see that when we go to training sessions, we can see the support on the streets, people cheering and waving – it's great. I hope it will continue until the very end of the tournament.
"Am I going to sleep well tonight? Yes, I surely will. Just before very important matches I have trouble sleeping, but this team has convinced me that I can rely on them; they have convinced me in every way during the last two and a half years. I just hope that together we will achieve what we desire.
"These first matches often produce draws. If we get a draw, it means we're still in the game. The Greeks are perfect in defence. It will be a great challenge to get through them."