France v England
Blanc: Rio exclusion big surprise
France manager suggests Rio Ferdinand's exclusion not for "sporting reasons"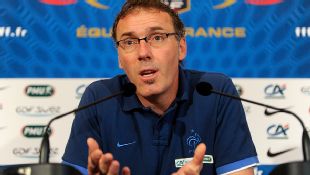 France manager Laurent Blanc has waded into the Rio Ferdinand debate ahead of his side's Euro 2012 clash with England, claiming the defender's controversial omission is not because of football reasons.
Blanc, a former team-mate of Ferdinand at Manchester United, said he was surprised that the centre-back was not included in Roy Hodgson's squad and joined a growing throng of people questioning the reason why.
Hodgson stated "football reasons" were his motivation for excluding Ferdinand, however the potential for disharmony between Ferdinand and John Terry is seen by many as the likely cause.
Terry faces a court case on July 9 after being charged with making racist comments to Ferdinand's brother, Anton, during a match between Chelsea and QPR last October.
Blanc said: "Every team has its problems and concerns. The English have injury problems but I know Rio Ferdinand. I think from afar that the choice to not take him isn't a sporting choice.
"It has been surprising to not see him. If the manager has made the choice ... I am not in his place."
Speaking at a press conference, Blanc said: "I'm not going to interfere in the affairs of England. Rio Ferdinand is a very good player but (his exclusion) has been surprising with all the injuries in that department."
Hodgson called Liverpool's one-cap defender Martin Kelly into his squad at the weekend when Chelsea centre-back Gary Cahill was ruled out by injury, leading Jamie Moralee, Ferdinand's long-time friend and business partner, to accuse the new manager of "a total lack of respect".
England play France in their Euro 2012 opening match in Donetsk on Monday.