Denmark news
Olsen: We can stun Dutch
Olsen tells Danes to grasp their opportunity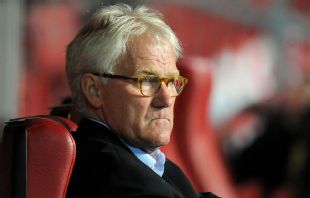 Morten Olsen has called on his Denmark side to spring a major surprise in their opening game of Euro 2012, by beating the Netherlands on Saturday.
Bert van Marwijk's side are one of the tournament favourites but have been drawn in the archetypal group of death, alongside Germany and Portugal.
With such European heavyweights in their pool, few give Denmark a prayer of progressing into the last eight, but Olsen says Denmark must relish their status as underdogs.
"We will naturally try and grab the opportunity with both hands," he told UEFA's website.
"It's a game against one of the tournament favourites from our point of view, so of course the Netherlands are favourites, but that doesn't mean that we are going to throw in the towel and say that we don't stand a chance.
"We need to be successful in our play and of course you always need that little bit of luck, whether it's a favourable call from the ref, an injury or hitting the post or not.
"We are not practising hitting the outside of the post, we are naturally trying to hit the inside of the post. However, we're dealing with people and sometimes you just don't have that last bit of luck you need.
"Against the Netherlands we might need a little more luck than we would against the other opponents in our group. But that is what we must hope for."
Olsen has been honing his tactical plan to try and exploit any weaknesses in the Dutch armoury but wouldn't be drawn on his approach to the match.
"I believe that Bert van Marwijk is experienced enough to be able to make use of any information I might give out. That is for the Netherlands to find out and not for us to hand them on a plate."
Olsen says he is comfortable with the level of competition in the Danish squad, who will have to be at their best to emerge unscathed from the group stages.
He added: "There are some players who can play two, three or four positions, and there are some who are better off in only one. So everybody knows, the deals are in place.
"We have some similarities among the players, but also some differences, and we need that of course.
"Tactically, if we change formation a player might be substituted, and a similar one might come in and play but he might have some other abilities.
"We are facing teams who are favourites to win; although what does that mean in today's football? Of course sometimes it does mean something, but it's not all about form."