Ukraine news
Ukraine point finger at salad
All players expected to be fit for Sweden game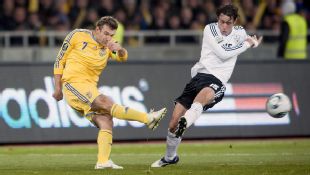 The outbreak of illness that hit 10 members of Ukraine's Euro 2012 squad was probably a result of food poisoning caused by salad served at a German hotel, the squad's doctor has said.
On Wednesday, coach Oleg Blokhin told Ukrainian television that the outbreak could have been the result of sabotage. It ruled players including Andriy Shevchenko and Anatoliy Tymoschuk out of the 2-0 friendly defeat against Turkey on Tuesday.
But Leonid Mironov said officials now believed the salad was to blame, adding that investigations into how Ukraine's two food tasters had missed the problem were under way.
"Upon arrival in Germany at a local hotel, they fed us poor-quality food," Mironov said. "Probably, we think, consuming one of the salads led to negative consequences.
"The idea is that they [the food tasters] test all the food. They set off for the hotel a bit earlier than the team and were supposed to check everything. Now we'll investigate and find the reasons for what happened."
He stressed that all the players should be fit by the time the tournament co-hosts begin their Group D campaign against Sweden on Monday, even though some may still need "one or two more days" to get back to full fitness.
Earlier, Blokhin had said the food poisoning "cannot be accidental", hinting at foul play after Tymoschuk needed to be put on a drip and Denys Garmash had to have his stomach cleaned using what Mironov described as "all available methods of detox".
The coach added: "It happened in Germany, but it is impossible to establish the causes: all ate different food. It may have been sabotage - I do not know. It cannot be accidental."