Group D opener
Wenger: Win or bust for England
Arsenal boss Arsene Wenger says Rooney's absence a major blow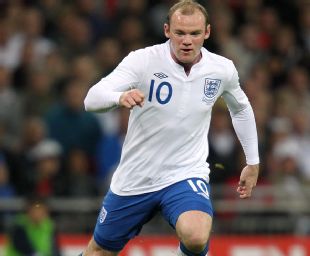 Arsene Wenger has warned England that their Euro 2012 campaign will effectively be over if they lose to France in their opening game on Monday.
The Arsenal manager said he believes Roy Hodgson's side will struggle because of Wayne Rooney's suspension for the first two Group D matches. He said he thought his native France have the quality needed to emerge triumphant in Poland and Ukraine. And in a downbeat assessment of England's chances, he told Arsenal's website: "The opening game is England v France and there is no Rooney. You would say that is a game that you can not afford to lose.
"Why? Not because you cannot catch up, but [because] the pressure inside the country becomes tremendous straight away.
"That game could dictate the whole group. If it's a 0-0 draw, the group is all open - but if someone loses they have a very good chance of going out because Ukraine will beat one of the two, you would say, and Sweden are a hard team to beat. It's a difficult group overall.''
Wenger has voiced his admiration for Hodgson, but said: "England have no Rooney, they have a new manager and they have not worked together so... it's a quick fix. Can it work or not? The first game will be a good indication.
"At the moment, England struggle to find confidence and unity - and if he [Hodgson] can manage to do that, he can do very well."
Wenger said he was optimistic that France could overcome memories of their disastrous 2010 World Cup campaign in South Africa, insisting Laurent Blanc's squad possesses the quality to triumph.
"France have the players to win this tournament," he added. "But they have not got the confidence and have no certainty. South Africa is still inside the team a little bit. Expectation levels in France are low because the scars are still there, but they have the quality."
Wenger's views were echoed by his former Arsenal midfielder Patrick Vieira, who said he believed the loser of the opening game would be "in big trouble" and almost certainly heading out.
The ex-Les Bleus star, who won the European Championship in 2000 after winning the World Cup in 1998, thinks that although both sides are evenly matched, history favours the French.
"The team losing that game will be in big trouble – and I hope it's England," he said. "England have not beaten France when it really matters in a tournament for 30 years [3-1 in Bilbao at the 1982 World Cup].
"There is always going to be a time for records like that to fall, but I hope it will not happen this summer."
The 35-year-old told the Daily Star: "France have problems at the back after losing Abidal and Sagna, while England will miss Rooney. Who is going to supply that bit of magic for them? "