Italy news
Balotelli fit to face Spain
Manchester City striker shakes off thigh strain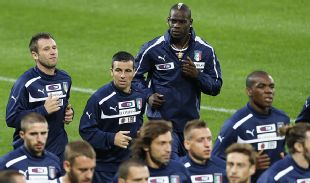 Mario Balotelli will be fit for Italy's Euro 2012 opener against Spain after scoring a hat-trick in training on Tuesday.
Balotelli had pulled up with a thigh injury at the beginning of the week, making him a doubt for the game against the holders in Gdansk on Sunday.
He did not train on Tuesday morning before the squad flew out to Poland, but hit the ground running in Krakow by scoring three times in their first session on foreign soil.
"Balotelli, as well as (Christian) Maggio, has an adductor strain," said coach Cesare Prandelli, speaking after arriving in Krakow at their training base. ``But it's nothing serious. He will probably be ready for the first match."
Meanwhile, UEFA's official tournament list shows that the forward has registered 'Barwuah Balotelli' as his shirt name rather than just 'Balotelli'. He was born in Sicily as Mario Barwuah to parents of Ghanaian descent and took the name Balotelli from his foster parents in Brescia.
Prandelli has greater long-term concerns over Juventus defender Andrea Barzagli, who picked up a calf strain in training on Monday and is definitely out of the Spain game. Davide Astori could yet be called into the squad if it is felt Barzagli will not recover to play a significant part in the finals.
"The plan with Barzagli is to get him recovered for the tournament. We'll try to do that until the last minute," said Prandelli. "He'll definitely miss the first match, but he is an important player, so we'll wait for him as long as we can.
"It's true that Davide Astori is on stand-by should he be needed to replace Barzagli. It's not Andrea Ranocchia because he picked up an injury during his last training session for Parma, so wouldn't be available anyway.
"All the players in the squad have to feel ready, because unexpected things can happen, just as with Barzagli. We've got to be prepared and are trying to get every player in good condition.
"This team wants to get on the field to prove it has quality and the right determination to be a protagonist at the Euros. This is the spirit we have now. We analysed the tactical situations and I found yet again a group ready to be honest and take responsibility."