Czech Republic news
Bilek relieved at Rosicky return
Arsenal star should be ready to face Russia in Euro 2012 opener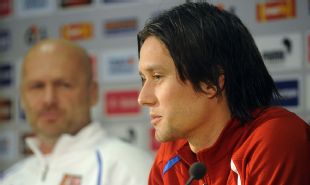 Czech Republic coach Michal Bilek feels his team are "much stronger" when Tomas Rosicky plays and has spoken of his delight at being able to welcome the talismanic midfielder back from injury in time for the European Championship.
The Czechs open their Euro 2012 campaign against Russia this Friday and Rosicky is expected to be involved after recovering from a calf injury suffered in Arsenal's final Premier League game of the season last month.
"Tomas figures among the group of our most important players, and whenever we have him in our team, we are much stronger," Bilek told UEFA.com. "Therefore, we were worried when he got injured in the last match of the Premier League season.
"His injury was not serious enough for him to miss the Euros, however. Now he's trained with the team for the first time, he did it well, and I believe he will be ready on Friday."
Czech Republic are not among the favourites heading into this month's tournament, but former Sparta Prague and Viktoria Plzen boss Bilek is predicting a solid showing from his side in Poland and Ukraine.
"For me, it is an honour to be head coach of the national team, and I've been appreciative of that ever since I was given the job. We've now qualified for the Euros and I believe it will be a great experience not only for my players but also for me. It is undoubtedly the pinnacle of my career.
"It's always important to start well. We hope to succeed in this match [against Russia]. I believe the team is well prepared and the current relaxed state of the squad will be important. Maybe we have our toughest opponent in the first match, the favourite in our group, Russia, who won their last friendly against Italy 3-0. That creates huge respect, but I believe in my team, and believe we will succeed in this match.
"We are not being given much of a chance. I believe that could be to our advantage, because, as I said, the team stabilised at the end of qualifying. We have been building for the last two and a half years, and the team eventually built an understanding and showed their strength."
Czech Republic's four previous appearances at the European Championship have resulted in a pair of group stage exits in 2000 and 2008, a semi-final elimination in 2004 and a painful golden-goal defeat to Germany in the final of Euro '96.