Euro 2012 news
Giroud expects 'great' England game
Montpellier star believes Les Bleus must be wary of Three Lions in opener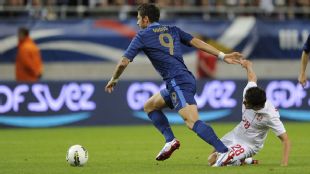 France forward Olivier Giroud is anticipating a close encounter against England in his side's opening match of the European Championship next Monday, but believes the absence of Wayne Rooney will be a major advantage for Les Bleus.
Giroud, 25, is relatively inexperienced at international level but has had the France No. 9 shirt thrust upon him for Euro 2012 after a prolific season with Ligue 1 champions Montpellier.
The former Tours frontman was plying his trade in Ligue 2 just two years ago and he has relished his rapid ascent to the national team, culminating in a place in Laurent Blanc's squad for Poland and Ukraine.
"It's really something new [to play in the Euros] and very special, especially for a player who recently began his international career like me," Giroud said. "So that makes it even more exciting and I'm really looking forward to it.
"Before, I knew the pride of representing one club, one city. But here it is a whole level above. Representing your country in a competition such as the European Championship is a great pride for me."
Giroud is likely to find himself on the substitutes' bench for France's first game against England, with Blanc generally preferring to start with Real Madrid star Karim Benzema, but he nonetheless recognises the importance of the Group D opener for his side - and refuses to believe the Three Lions will be easy pickings.
"We know that the first match is crucial and that if we are the winner it will put is in a good place," Giroud said. "We must not lose it for sure. But also it is important not to put too much pressure on ourselves either. We have a now gone 20 games without defeat. We are united and we are confident in our qualities. And we are behind the coach, as he is behind us, we are very supportive.
"I don't see many weaknesses for England. If I had to find one, I would say that they will miss Wayne Rooney in attack. Their coach changed recently, so they have less experience with the new staff. But anyway, England is a team that has extensive experience in major competitions.
"Many players in their squad play in the Champions League every year. This is a group of players who know each other well and there is a good balance between the old and the new generation. But we also have great quality, it will be a great match.
Giroud opted against making any predictions of Euro 2012 glory for Les Bleus, insisting that they are simply concentrating on qualifying for the quarter-finals at present.
"The French team has struggled in major competitions for many years. So we will do everything to progress from the group stage. This is our first objective, and we will build from there."
France striker Olivier Giroud wears PUMA evoSPEED iFG boots - @pumafootball