England news
Mertens says sorry
PSV star caused injury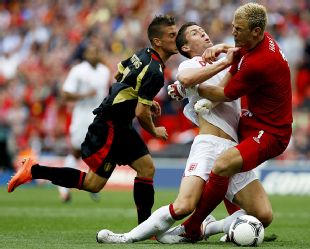 Belgium international Dries Mertens has apologised for the incident which cost Gary Cahill a place at Euro 2012.
With Cahill calmly guarding the ball back to Joe Hart and seemingly no danger, Mertens inexplicably shoved the Chelsea defender in the back and he crashed into his goalkeeper - resulting in a doubled fracture of the jaw and the end of his tournament before it had began.
Mertens, who plays for PSV Eindhoven but has been linked with a move to Inter Milan this summer, took to Twitter to say sorry to Cahill.
He tweeted: "I sincerely apologize for the harm I've cost to Cahill. When in the heat of the moment, you often don't think about the consequences. My thoughts go out to him and I hope he recovers well!"