England news
More Rio controversy
Man United defender snubbed again.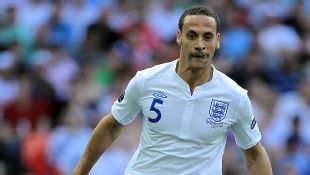 The agent of Rio Ferdinand has accused England coach Roy Hodgson and the Football Association of "a total lack of respect" after Martin Kelly was brought into the squad.
Ferdinand had already missed out on the initial 23-man squad but the broken jaw Gary Cahill suffered against Belgium at Wembley seemingly opened the door for a central defender to come in. But Hodgson has drafted in Liverpool's rookie left-back Kelly with Phil Jagielka, who last week replaced Gareth Barry, considered the cover in the centre of defence.

Ferdinand's representative and long-standing friend Jamie Moralee said: "Lampard, Terry, Barry, Gerrard; all ageing but they go to the tournament. Why is Rio different?
"To treat a player that has captained and served his country 81 times [in this manner] is nothing short of disgraceful. Total lack of respect from [Roy] Hodgson and the FA as far as I am concerned."

Kelly made just 12 Premier League appearances for Liverpool last season.
After it was reported on Sunday that Ferdinand had been left out for "footballing reasons", Ferdinand had tweeted: "What reasons?????!!!"