Italy news
Albertini: Italy will be at Euro 2012
Match-fixing scandal won't stop Italy from playing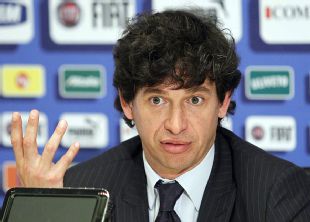 Italy football federation vice-president Demetrio Albertini has reassured fans that the Azzurri will play at Euro 2012.
Earlier this week Italy's Prime Minister Mario Monti suggested that professional football in the country could benefit from a break of "two to three years'' in order to weed out match-fixing from the game.
Nineteen people, including Lazio captain Stefano Mauri, were arrested on Monday in the second match-fixing scandal to hit the nation in the space of six years.
Italy coach Cesare Prandelli said today he would have "no problem'' if the authorities would rather his national team withdraw from the competition due to the latest match-fixing scandal. However, Albertini told Italian radio station Rtl 102.5: "There is no risk that Italy will not go to the European Championship.
"Prandelli was just blowing off steam after everything that has happened in the last few days. We have already clarified everything with the coach and with the federation president Giancarlo Abete.''
Earlier this week, Prandelli was forced to drop Zenit St Petersburg defender Domenico Criscito from the squad because the player is under investigation.