Italy news
Prandelli would accept pull out
Coach says "some things are more important" amid match-fixing scandal.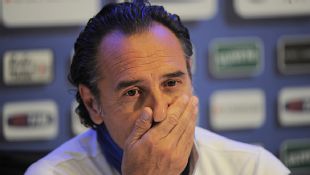 The Italy coach Cesare Prandelli has said he would not have a problem with his team being withdrawn from Euro 2012 as the Italian match-fixing crisis continues to grow.
Speaking nine days before his players are due to begin their campaign against Spain, Prandelli told RaiSport: "If you told us that, for the good of football, we should not participate, it wouldn't be a problem for me. There are things that I believe are more important."
Prandelli's comments came after a week in which police have arrested 19 people including the Lazio captain, Stefano Mauri, and the coach dropped Domenico Criscito from his squad for the Euros after the defender was questioned by police at Italy's training camp.
On Thursday, a lawyer for the Italian goalkeeper Gianluigi Buffon defended his client amid further claims. Marco Valerio Corini told SkyTG24 television: "There is nothing which could even carry the faintest suggestion of a connection between Gianluigi Buffon and any betting activity that would concern him in any irregularity either with respect to federation rules or criminal law."
The crisis has prompted the Italian prime minister, Mario Monti, to suggest that the game would benefit from being suspended for two to three years in an attempt to eradicate the problems.
Prandelli said: "I would rather only talk about football, but events are conspiring against this."
The coach admitted that he did not know what effect recent events would have on Buffon, adding: "We keep on saying those players caught up in the investigation will not be going to Euro 2012.
"How is Buffon's mood? You should ask him. He is very strong, with a great personality. He manages to hide uncomfortable moments, but despite this, even a person like him can suffer in a difficult moment like this."
Criscito claimed he had ben made a "scapegoat" after his questioning on Monday. He told Gazzetta dello Sport: "I never expected it. I have not done anything wrong in my life, as those who know me can attest.
"Being dropped from the squad, I know, makes me a symbol of the scandal. I feel anger and sorrow because I should not be a scapegoat for something I am not involved with."
Italian interior minister, Anna Maria Cancellieri, later backed the team's participation in the tournament: "The European Championship is a major international tournament. Play, and play well for Italy.''