France news
Blanc hopes racism won't mar Euros
France coach wary of reported problems in Ukraine and Poland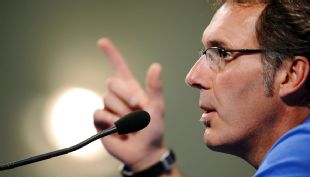 France head coach Laurent Blanc "dares to hope" that racism will not blight this summer's European Championship in Poland in Ukraine.
There are growing fears that racism could be an issue at the tournament following reports, namely Monday night's BBC current affairs programme Panorama, of violence against some cultures.
England duo Theo Walcott and Alex Oxlade-Chamberlain have already confirmed their families will not be travelling to Euro 2012 for fear of being the victims of abuse. None of the families of France's squad have yet announced their intentions to abstain from attending the competition, and Blanc is hopeful the matter will not mar the finals.
"I hope that there won't be a problem relating to the family or children of any player in Ukraine," Blanc is quoted as saying in the Daily Telegraph. "I dare to hope that football can rise above that. That's not so clear, but I do dare to hope that sport, and notably football, can get over that.
"We haven't approached the question. We've got enough things to think about so we haven't looked at that. But we might. It's a question for the players to answer because it concerns them mainly. This sort of thing is about their loved ones."
Lyon defender Anthony Reveillere admitted the revelations about the depth of racism in Ukrainian and Polish football had come as a shock to the French squad.
"This is something we've heard very little about," he said. "I've been eating with certain players and their decision has been not to stop [families travelling] but this sort of thing does make you a little bit scared. You want to be the protector of your loved ones and to make sure they're safe.
"But it's not especially been raised between us and we've spoken about it very little. We'll see if we can resolve this problem between ourselves and make sure that players' families are kept secure."