Spain news
Del Bosque: No divides in camp
No Real Madrid-Barcelona split, says the head coach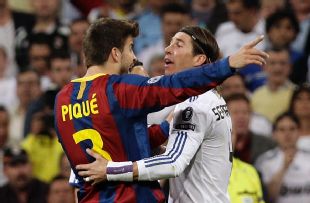 Spain head coach Vicente Del Bosque has attempted to play down concerns of a divide in the Spain camp, with media reports suggesting a split between the Real Madrid and Barcelona players.
Twelve of the Spanish squad are sourced from the two clubs, leading many to believe that the tension between the sides that peaked a year ago would cause a divide during the tournament.
Relations have improved somewhat and Del Bosque has been quick to quash media speculation that the issue would hinder the country's ambitions at Euro 2012.
He told ONA FM: "I think the atmosphere between the players of Real Madrid and Barcelona is fine. They have had an experience that has brought them together in harmony. I think that those that have won have been generous in victory and those that have lost have acted properly in defeat. I am very pleased that everything has gone well.''
One relationship in particular has attracted unwanted media attention, with likely centre-back pairing of Sergio Ramos and Gerard Pique known not to be on the best of terms.
"Even if they don't get on well, we would bring them, because it is on the field where they have to get on well,'' Del Bosque added.
"They are two young men with their disagreements but in the end they are two excellent guys and I am sure there will be no problem. They have played together and they are episodes that have passed. The most important thing is that they have good hearts and nothing else.''