Euro 2012
Ukraine slams Campbell fan warning
Ex-England defender criticised for urging supporters to avoid Ukraine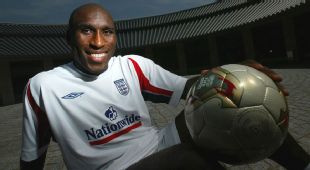 Ukrainian officials have responded angrily to comments from Sol Campbell warning England fans not to travel to the country for next month's European Championship because of the threat of violence, with the Euro 2012 director branding him "insolent".
Speaking on the BBC's Panorama programme, aired on Monday night, former Three Lions defender Campbell spoke of his fears that racism is rife in Ukraine and urged supporters not to travel to the Eastern European nation, which is co-hosting Euro 2012.
"I think that they were wrong [to allow Ukraine to host Euro 2012], because what they should say is that 'if you want this tournament, you sort your problems out'," Campbell said.
His comments were unsurprisingly poorly received by many of those responsible for bringing a major international tournament to Ukraine for the first time, with the Euro 2012 director Markian Lubkivsky expressing his disappointment at the remarks.
"We are getting ready for the great football festival," Lubkivsky said. "To be honest, from the UEFA point of view, I don't see any dangers for citizens of different nationalities to stay in Ukraine.
"If the player Campbell has such a vision, than it is his own point of view, and it can not be projected for the whole country. His statement is simply insolent for us and we do not understand the aim of it."
Meanwhile, the Ukrainian Foreign Ministry outlined its belief that Campbell's comments were hypocritical, with spokesman Oleg Voloshyn saying: "Nazi symbols can be seen at ... any match in England, but does it mean that fans should not come to London for the Olympics?"