Italy news
Trap sad about match-fixing scandal
Ireland coach unhappy about scandal gripping Italian football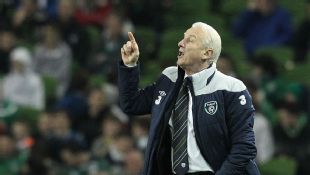 Giovanni Trapattoni has waded into the Italian match-fixing scandal, with the Ireland coach describing the situation as a "disappointment and humiliation".
Italy's European Championship preparations have been overshadowed by the match-fixing scandal that saw defender Domenico Criscito arrested and subsequently omitted from the national squad.
Trapattoni is in his native Italy putting the Ireland squad through their paces ahead of Euro 2012. As a six-time winner of Serie A, he is well qualified to comment on the subject and it is something that has left a bitter taste in the 73-year-old's mouth.
"Every moment, we have in Italy a surprise," Trapattoni said. "Obviously, we are not only sad, but we are also disappointed, very, very much because Italian football is not only this.
"We have had it in the past and also now. We don't have a good reputation and it's important that we clean up this situation because we can't accept every two or three years this disappointment and humiliation for Italian football."