Denmark news
Sorensen out of Denmark squad
Goalkeeper replaced by Kasper Schmeichel after suffering back injury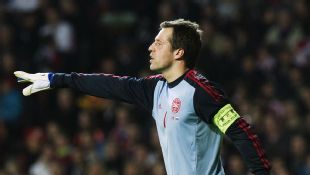 Thomas Sorensen has been withdrawn from Denmark's Euro 2012 squad after being substituted during the 3-1 friendly defeat to Brazil on Saturday with a back injury.
Sorensen, 35, will be replaced by Leicester's Kasper Schmeichel, the Danish coach, Morten Olsen, said.
Olsen explained that uncertainty over the extent of the Stoke goalkeeper's injury had led to his decision. Earlier, he had said Soresen was likely to miss Denmark's first Euro 2012 group game against Netherlands on June 9.
"Thomas has suffered an injury to his back. It is unfortunately more likely that he will not recover in time to be available for matches in the finals than [that he will] get over it in time," he said.
"It was a difficult decision to make ... Thomas a fantastic person and professional to have in the squad, and his experience is exactly what we need in a tournament against some of the strongest teams in the world.
"Thomas was obviously disappointed with my decision, but he understands our situation."
The Danish FA said the decision had been made after discussions with the squad's medical staff.
Sorensen said: "I am deeply unhappy about it. I had looked forward to my fifth finals with the national team. But I also understand that it is a big risk to go with an injured goalkeeper and therefore I respect Martin's decision, even if it hurts."
Olsen said he was confident in Schmeichel as a replacement, adding: "He has worked seriously on his development as a goalkeeper, and we followed him closely during his season for Leicester."