England news
Panorama reveals racism concerns
TV programme shows shocking racism in Euro countries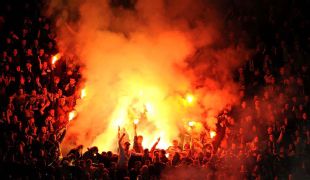 BBC current affairs programme Panorama has revealed shocking evidence of racist violence and anti-Semitism at games in Poland and Ukraine just over a week before Euro 2012 is due to begin.
Reporter Chris Rogers spent a month in the two countries, attending games and witnessing first-hand some of the violent attacks and racist chanting that has become commonplace at some games.
The programme spoke to some Indian students who had been attacked in the family section as they watched Metalist Kharkiv in the final game of the Ukrainian season. Shocking images showed a gang of 'Ultras' charging down the stands to where they were peacefully sitting and beating them mercilessly. No stewards came to their rescue and they were forced to flee for their lives.
UEFA say it has 'zero tolerance' of racism on the terraces but in 2010, a UEFA report showed that 133 serious hate crimes were perpetrated inside Polish stadiums. Indeed, the British government issued a warning to fans travelling to Euro 2012 this summer in a Foreign office statement in a fans' guide to the tournament.
"Although the vast majority of visitors experience no difficulties, foreign nationals have been the victims of violent crime in Kiev and other major cities," it read. "In some cases, attacks have been racially motivated. Travellers of Asian or Afro-Caribbean descent and individuals belonging to religious minorities should take extra care."
However, Ukrainian international Shevchenko denied that there was a problem with racism in the country.
"We don't have a real problem here about racism." he told the BBC. "The country's very quiet and people are very friendly.
Indeed, the former Chelsea and AC Milan striker believes that Euro 2012 will pass without any incidents.
"I know the country did everything to make this competition very good," he added. "I know how much work the country tried to do: airports, in streets, stadium in the last five years. We never have heard problems about racism."