Edgar Davids interview
Davids backing Dutch firepower
Dutch legend hopes for Euro glory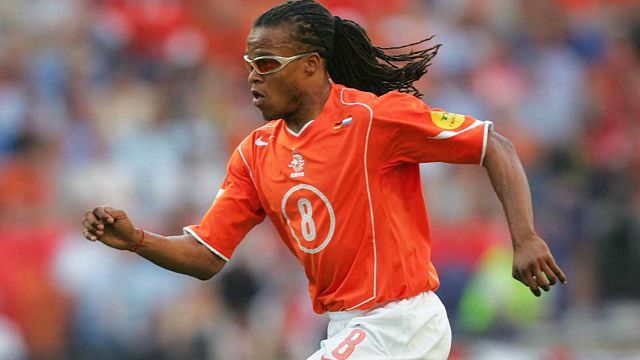 Edgar Davids played in three European Championships for Netherlands, twice losing out at the semi-final stage.
A combative midfielder with the ability to create, Davids was one of the most recognisable faces on the international scene over an 11-year period with the Dutch side.
Davids retired from football in 2010 after a short-lived spell with Crystal Palace, but before that enjoyed a distinguished career which took him from Ajax to AC Milan, Juventus, Barcelona, Inter Milan and Tottenham Hotspur.
A winner of one Champions League, UEFA Cup and European Super Cup, three Serie A titles, one Coppa Italia, three Eredivisie championships, two Dutch Cups and the Intercontinental Cup, Davids landed just about every trophy there was to win at club level.
As the Dutch prepare for Euro 2012, still looking to add to their only major title of the 1988 Euros in Germany, Davids is advocating an attacking approach for Bert van Marwijk's side in a tough group of Germany, Portugal and Denmark.
Netherlands have two of the most prolific strikers in Europe, with Robin van Persie netting 30 goals for Arsenal and Klaas-Jan Huntelaar plundering 29 for Schalke while also finishing as the leading scorer in qualifying for the finals. Van Marwijk faces a dilemma over how to fit both into the Dutch system, with some suggesting Wesley Sneijder could be forced to make way after a disappointing season with Inter.
Sneijder started four of Inter's last five matches, missing the final day defeat at Lazio, after a frustrating battle for fitness and form all season. But Davids insists the midfielder will be crucial to Dutch hopes of success.
"Sneijder has to play," Davids told ESPN. "He showed in his last games [for Inter Milan] he was hungry, he was aggressive again, he was determined and he doesn't have the physical damage that a season brings to you.
"I would play Klass-Jan Huntelaar, Arjen Robben, Robin van Persie and Sneijder. You have Huntelaar as a striker, Van Persie coming in from the left and also Robben on the other side. Why should you choose? They [Van Persie and Huntelaar] have scored so many goals, I think that's common sense.
"Huntelaar grew at Schalke. People think it's easy to play in a foreign country but it's not only about the game as you have to adapt, adapting is key. The quicker you adapt, then the stronger you are and the more successful you can be. But I don't think he's capable of winning the Golden Boot, that normally goes to someone who has been playing in the Champions League."
"Why should you choose? They [Van Persie and Huntelaar] have scored so many goals, I think that's commonsense."

Edgar Davids
After seeing his countrymen lose out to Spain in the World Cup final two years ago, Davids is eager for Netherlands to recover from that disappointment and emerge as champions - and he is prepared to sacrifice style for substance.
"Normally I'd rather see attractive football but now I think I want to bring back the cup," he added. "I'm not sure how solid they are at the back but everybody thought that at the last tournament and they did quite well. It all depends about the shape of the team, if you play compact.
"This team by far exceeds all attacking expectations and is more complete and balanced. If you look at the players they have now, with their attacking impulse, it's unbelievable.
"The Dutch firepower is now incredible, and there is the experience and qualities to win it. The Dutch players are used to playing with pressure. They play for big teams so there's always pressure, the pressure of winning. So it's no different for them when playing for Holland.
"It will be hard but it's not impossible. The only problem I see is that to win a tournament you have to grow into it - but with this group there is no time to grow, you have to perform immediately. It's not a sprint, it's a marathon. You look at Spain at the World Cup, they started off shaky and ended up playing incredible."
One game which leaps out to any Dutch fan is the grudge meeting with Germany in Kharkiv in the second set of group matches. It is one of the most fiercely contested rivalries in international football, with Davids part of the team which drew 1-1 with the Germans at Euro 2004.
"Against Germany everyone is just sharper," Davids explained. "It's also because they have won more than Holland - those are hard facts. We played more attractive football but they brought home the silverware. There's something about them that is just incredible. When you play against Germany you know you have to bring your A-game to beat them.
"I want to see what [Mesut] Ozil will bring to the table, I like [Thomas] Muller if he's fit. To be honest I love the German squad, how they play. It's funny that the German squad plays better, more attractive football than the Dutch now."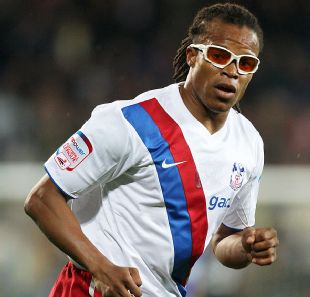 Germany will have eight members of the Bayern Munich squad in their 23-man party, players who suffered a disastrous end to the season: losing out to Borussia Dortmund in the league and DFB-Pokal, before being beaten on penalties by Chelsea in the Champions League final. Davids does not accept that such disappointment could result in a hangover at the Euros.
"They already have the mechanisms in place to want to succeed - so in fact if you play with eight players from Bayern you already have an advantage," he said. "You know exactly what the other guy is doing; that you don't have to train. Nowadays when you lose a cup final you think more about winning a cup final. Losing it makes you eager to be a winner."
Having played for the Dutch on home soil, when they jointly hosted with Belgium in 2000, Davids knows just how much of a boost that can be - and maybe it could lead to one of the co-hosts proving to be the surprise package of the finals.
"It was a great ride," Davids remembers. "It was like going somewhere like Disneyworld and going on all the rides. The rollercoaster goes so fast, so many thrills which we will never experience again. It was just amazing. [Poland and Ukraine] have to enjoy that ride. When you play in the stadiums will all those people cheering for just you it gives you more confidence.
"It's always a good story when you have an underdog that just comes out of nowhere and just starts eating up the bigger teams. Maybe it could be Ukraine or Poland this year."
Follow Dale Johnson on Twitter: http://twitter.com/dalejohnsonESPN
Edgar Davids was speaking on behalf of ESPN Classic and their coverage of the very best European Championship matches from 1972-2008. Every night from 10pm on Sky Channel 429 and Virgin 533. For more details visit http://tv.espn.co.uk/gb/espl/europhoria