France news
Blanc: France defence will improve
Coach admits problems in win over Iceland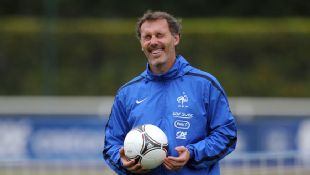 France coach Laurent Blanc has said he expects his defence to improve as he prepares his team for their final two pre-Euro 2012 friendlies against Serbia and Estonia.
Blanc saw France concede two first-half goals against Iceland in Valenciennes before coming back to win 3-2 and admitted they had defended "very badly" before the break. But he said he had told his players they needed to be ready for June 11 - when they play England in their first Group D game – and not before.
He said: "Trust comes with victory, so we reached our objective. And I prefer to win 3-2 with difficulties than too easily. We have to be ready for June 11, not before. I told the players: 'Do your best to be at your best from that date onwards.'
"With our preparation, we are not physically at our best. That could explain why we were lacking in defence. We experienced two very different halves. In the first, we could not score from our opportunities and we defended very badly.
"In the second, we had the same game but with other players, other characteristics, and the Icelanders were tired. The result is good, but we have to make a complete analysis."
Blanc has not ruled out playing Olivier Giroud alongside Karim Benzema in his Euro 2012 team after the Montpellier forward came off the bench to set up two goals as France completed a late comeback, but that would demand an overhaul of his side.
He said: "Could I play Benzema and Giroud together? It is possible - but then we would need to rethink the whole midfield and reconstruct it for them to play together."