Tactical preview
Euro 2012 Tactics - Croatia
ESPN's look at the plans of Croatia this summer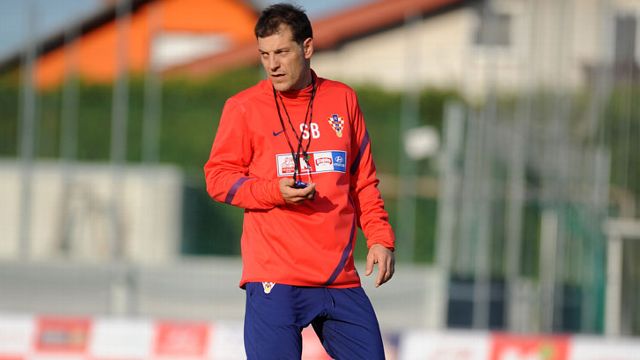 The Coach - Slaven Bilic
In charge of the Croatia national team for the last six years, he has confirmed he will step down after Euro 2012. He has taken on a role as manager of Lokomotiv Moscow to follow his farewell to his beloved national team.
Never shy when a camera or microphone is thrust before him, the deadpan tactician mixes the pragmatic with the flamboyant as he sets out his teams, with his approach generally a little more refined than he was as a teak-tough defender with Hadjuk Split, Karlsruher, West Ham and Everton.
Bilic's legacy with the Croatian national ensured he has been a sought-after coaching commodity this summer, as he has excelled in taking his beloved nation to Euro 2008 (knocking out England in qualifying) and navigating his way through to another major finals this summer.
"What we have at Euro 2012 is a situation where no one expects Croatia to make it through the group stage, but this is the kind of situation where we thrive," believes Bilic. "When you tell my team they are underdogs, that they have no chance, they tend to answer in a big way. I would expect us to be in the quarter-finals at least, even if this means mean beating Spain or Italy in the group stage."
The Captain - Darijo Srna
Srna will take up station on the right side of Bilic's midfield this summer and his importance to the Croatia side has not diminished throughout his decade on the international stage.
It's something of a variation on the role he plays for Shahktar Donetsk, where he is employed as a right-back, yet he has the composure on the ball and the experience to carry a potent threat as Croatia look to employ counter attacking tactics against their big hitting opponents at Euro 2012.
The veteran is closing in on a century of international appearances and he will be keen to inspire some shocks for this Croatia side in Poland. "I cannot remember a time when people were so negative about our chances," says Srna. "Our belief is when the big games come, against the best opponents, these players move to a different level. Okay, so our form has not been perfect in recent times, but Euro 2012 is all that counts."
A UEFA Cup winner with Shahktar in 2009, Srna often dedicates his successes to his brother Igor, who suffers with Down's syndrome. Indeed, he has the name of his beloved sibling tattooed onto his chest.
The Formation
Bilic has the flair and dynamism with in his ranks to effectively operated a 4-4-2 line-up that is both flexible and resolute. In this formation, they look to hit their opponents on the break, soaking up pressure before using the invention of Tottenham's Luka Modric and the goal power of Ivica Olic and Mario Mandsukic to snatch a goal from nothing in an instant.
This system relies on Olic and Mandsukic getting through plenty of defensive work. In the Euro 2012 play-off with Turkey, the strike duo were the first line of the Croatia defence as they put their opponents midfielders under pressure to release the ball, forcing them into a host of misplaced passes. Ivan Rakitic and Srna were then crucial in leading breakaways.
Bilic also has a Plan B, with a 4-5-1 formation offering him more attacking potential and in this formation. Everton's Nikica Jelavic is generally employed as the lone striker in this set-up, with to his mobility and goal poaching potential better suited to the system. Croatia may look to use this more adventurous formation in their Euro 2012 opener against Ireland, where they need to pick up a victory.
The Weak Spot
Quality players boasting an electrifying turn of pace can expose Croatia's back line and while the same can be said about most defenders, the first picks in Bilic's line-up are caught out more than most.
There is a suggestion that a clutch of the players who have served Croatia superbly have lost their cutting edge at international level. With many of the established stalwarts now in the 30-something category, the veterans are set to call time on their careers with the national team after Euro 2012 and if they have lost an ounce of their cutting edge due to their imminent retirements, it will be exposed this summer.
Finally, there have been rumours that some of the senior players in Bilic's squad have a little too much influence on team selection. Naturally, the coach denies such a suggestion, but reports in Croatia claimed some players pull the strings with more authority than is found in most national team squads.
Injury Nightmare
Modric looks set to be fit for Euro 2012, but the physical condition that he will arrive at the tournament most concern coach Bilic.
Tottenham's end of season slump coincided with Modric's collapse in form, with the spindly-legged midfield string pulled looking jaded after a season when he has got through a big work load at club level. Expected to create for Spurs as well as being asked to do plenty of defensive work, it has pushed the 26-year-old to the point of exhaustion.
There is also concern about what happens if veterans Srna, Josip Simunic, Tomislav Dujmovic and Ivica Olic are ruled out. These guys have hogged their placed in the national team for many a year, with their back-ups lacking the international exposure as a result.
Young Gun - Domagoj Vida
Bilic opted to give this Dinamo Zagreb performer his chance in the Euro 2012 play-off against Turkey and he was rewarded with a fine performance from the 23-year-old.
At home in a central defensive role or at right-back, Vida looks set to be one of the stars of a new-look Croatia side after Euro 2012, but he gets his chance to play alongside some of his nation's all-time greats in this tournament.
What they Say
""We have a weak domestic championship in Croatia, so it is difficult to continue to produce top international players. We do well to qualify for so many tournaments, but it is not getting any easier for us. Euro 2012 will be tough from the first match.""

Luka Modric, Croatia
The Verdict
There is plenty of pessimism circling around Croatia right now and it will deepen if they don't win their first game against Ireland. An early exit seems likely.