Tactical preview
Euro 2012 Tactics - Greece
ESPN's look at the plans of Greece this summer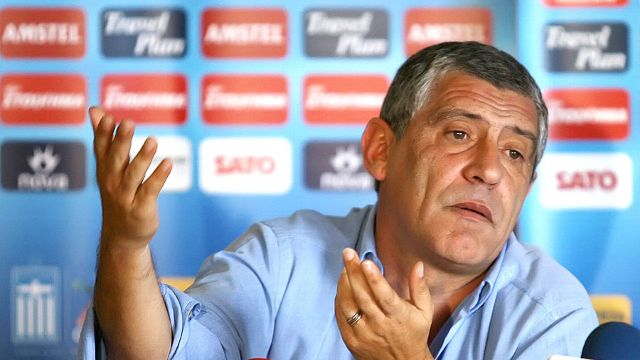 The Manager- Fernando Santos
A qualified electrical engineer, the Portuguese coach has made all the right connections since succeeding iconic Euro 2004-winning boss Otto Rehhagel two years ago.
Not only has he steered Greece to first-place in their qualifying group for these championships, but he has also contrived to make defeats seem like collector's items; in 18 games he has been beaten just once, a 3-1 friendly loss to Romania last November.
One of the rare coaches to have taken charge of all of Portugal's 'Big Three' clubs (FC Porto, Sporting and Benfica), his second footballing home is undoubtedly Greece, spending no fewer than seven seasons calling the shots at AEK Athens, Panathinaikos and PAOK Salonika.
Although not quite as dogmatic as his predecessor Rehhagel (who could be?), Santos is nevertheless a totally dedicated systems man, someone who puts far more store by tactics than the ability of individual players. Rational and conservative, his basic premise is to numerically match the opposition line-by-line and as a game evolves he will move his pawns accordingly.
Whereas Rehhagel was too wedded to his old guard, Santos has proved much more willing to blood youngsters and ditch non-performing big names. Euro 2012 will be his biggest test yet.
The Captain - Giorgos Karagounis
Likely to become his country's most-capped player of all-time during Euro 2012 - taking over from Theo Zagorakis - the 35-year-old Panathinaikos star was not made skipper solely because he is the squad's elder statesman.
A gritty competitor, industrious and an expert at keeping possession and taking free-kicks, Karagounis is the heartbeat of the team, humble but incredibly driven, underestimated but ferociously efficient. One of the few survivors from the triumphant Euro 2004 campaign, his passion and enthusiasm is now rubbing off on the younger generation.
That coach Santos should have such faith in him should come as no surprise, as the pair worked together to good effect at both Panathinaikos and Benfica.
The Formation
Although some insist that Fernando Santos' Greece play with more freedom and diversity than the Otto Rehhagel version, the claim does not appear to stack up.
Like Rehhagel, Santos generally prefers to deploy a well-organised 4-3-3 shape and the basic strategy is more or less a twin-brother, predicated on keeping it tight at the back, staying patient and waiting for the other team to make a mistake.
Very proficient from set-plays and strong psychologically, the Greeks love nothing better than to counter-attack their way into the lead, then to see out the game in spoiling mode. Santos' team thrives on the bare minimum and their Euro 2012 qualifying statistics prove it, with a mere 14 goals scored and a meagre five conceded.
Success or failure will depend to a large extent on how they function as pairs: the central defensive duo of Avraam Papadopoulos and Sokratis Papastathopoulos, midfield regulators Giorgos Karagounis and Kostas Katsouranis and full-backs Vasilis Torosidis and Jose Holebas, whose surging forwards runs stand in marked contrast to the side's normally pedestrian approach.
Other tactical possibilities for Santos include a 4-4-2 with a midfield diamond and the currently popular international template of 4-2-3-1.
The Weak Spot
Where will their goals come from? While the Greeks have experience in abundance up front in Giorgos Samaras, Fanis Gekas, Dimitris Salpigidis and Nikos Liberopoulos, each one is either past his prime or somewhat short of international standard.
Fernando Santos often uses Samaras on the left wing when he clearly is more comfortable through the middle and apart from attacking midfielder Sotiris Ninis, there is a distinct lack of creativity and finesse in midfield. This means the Greek attacks tend to look a little too mechanistic, with little or no willingness to improvise.
Then there is the issue of the first-choice goalkeeper. Alexandros Tzorvas has lost his starting place at Palermo, Michalis Sifakis is short of match practice following injury and Dionisis Chiotis (APOEL Nicosia) has next to no senior national team experience and the up-and-coming Orestis Karnezis of Panathinaikos only recently became a regular at club level.
Finally, despite being extremely well-drilled defensively, they can let themselves down by conceding too many soft free-kicks around their box. In essence, that adds up to a few too many weak spot to resolve in time for Euro 2012.
Injury Nightmare
One man Greece simply cannot do without is right-back Vasilis Torosidis, as while Greece they not be known for throwing off the safety-first shackles and forcing the issue, the swashbuckling Olympiakos captain tends to be their catalyst when they try to break free.
Torosidis can cause no end of trouble for opponents with his speed off the mark, endurance, crossing ability and shooting, so it is hardly surprising that he is rumoured to be wanted by a host of top European clubs.
Quite where they would turn if this 26-year-old pulled up injured is a question coach Santos may not be able to answer as his deputy, Loukas Vyntra of Panathinaikos offers none of the same dash and daring.
The Young Gun - Sotiris Ninis
Even though the brilliant 22-year-old Panathinaikos right-winger or creative midfielder suffered a nightmare 2011-12 season as he was sidelined for several months with damaged knee ligaments before then breaking his nose, he is the shining star of this team.
He hoped to be fully fit for Euro 2012 However and the Greeks certainly could use his sublime talent: his touch, vision, change of pace and intuitive style. The youngest-ever scorer for the national team (18 years and 46 days), he has agreed to join Parma of Serie A next season.
What they Say
""In these very hard economic times for our country, we don't have much to smile about, but we can be confident that our footballers will do us proud in Poland. This is a team that wrings every last drop out of its attributes and given their pride, spirit and togetherness, they can make the knock-out phase. All will depend on the first game against Poland. Pull off a shock there and we're on our way.""

Nikos Machlas, ex-Greece striker
The Verdict
The miracle of 2004 will not be replicated here as the current Greece side simply don't have enough end product to make their mark this summer.