Russia news
Shishkin out of Euros
Right-back returns to Lokomotiv.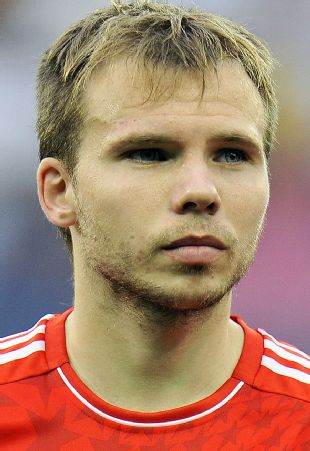 Russia have lost Roman Shishkin from their squad for the European Championships with a stomach problem.
Just days after key defender Vasili Berezutski was forced to withdraw from the finals after failing to recover from a thigh muscle injury, coach Dick Advocaat has now lost the right-back Sishkin.
Shishkin, 25, was expected to be fit for Euro 2012 but after suffering weight loss and being hospitalised with an inflamed digestive tract he will no longer be part of the 23-man squad. Advocaat's preliminary squad has now been reduced to 24 ahead of the final squad deadline on Tuesday.
"Unfortunately, the national team has lost a second player and defender due to a health problem," team spokesman Ilya Kazakov said. "Roman has an acute problem of the gastrointestinal tract."
Advocaat added: "Roman left the team because of gastrointestinal problems. He has lost some weight and the prediction wasn't optimistic. He went back to Lokomotiv Moscow where the medical staff will take care of him."
But Advocaat will not be calling up a replacement: "We immediately summoned 26 players, including one extra defender, given the possibility that someone could fall from the team due to injuries.
"Tomorrow [Friday] I will name the final Russia squad for Euro 2012 out of 23 players and one player will go home. I think that the best players know in advance which of them will go to the European Championship."
Russia play Uruguay in a friendly on Friday and begin their campaign against Czech Republic in Wroclaw on the opening day of the tournament.