Tactical preview
Euro 2012 Tactics - Poland
ESPN's look at the plans of Poland this summer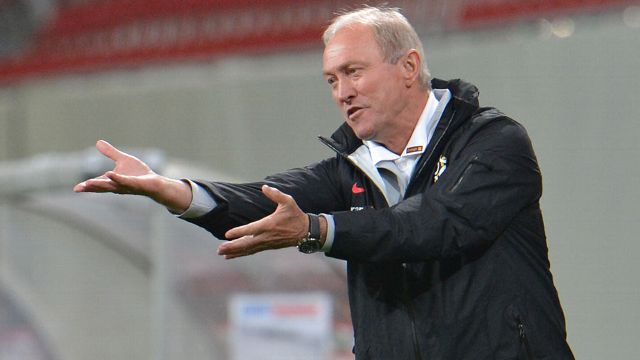 The Manager - Franciszek Smuda
This 63-year-old was appointed to replace Leo Beenhakker in the autumn of 2009, as he finally landed the national team job after featuring on short-lists for the job several times in previous years.
A former defender with Legia Warsaw and a string of former NASL sides in the United States - he was once a team-mate of George Best at the Los Angeles Aztecs - Smuda has enjoyed considerable success coaching Polish outfits, notably winning domestic league crowns with Widzew Lodz (1996 and 1997) and Wisla Krakow (1999) and the national cup with Lech Poznan (2009). His finest hour came in 1996 as he led Widzew to the group stages of the Champions League, a feat no Polish club manager has achieved since.
Often criticised for overdosing on experimentation, for failing to come up with a settled line-up quickly enough, Smuda likes to ring the tactical changes during a match, though he can be rather scattergun in his decision- making.
Sometimes his intuition pays off; on other occasions it backfires horribly and he has been under fire in from some quarters in the run-up to Euro 2012. Some of his critics are waiting for him to fail.
The Captain - Jakub Blaszczykowski
A bullish and incisive right-winger who very much leads from the front, full of energy and desire and totally committed to the cause, 'Kuba' has played a vital part in Borussia Dortmund's domination of the Bundesliga over the last two seasons.
His confidence could not be higher right now. Poland have three 'Dortmunder' (Blaszczkowski, full-back Lukasz Piszczek and striker Robert Lewandowski) in their first eleven and their mental strength and winning abilities will be vital to the national team's cause this summer.
Aged 26, the Daniel Craig lookalike is much more consistent than he was in his younger days, more of a team player and he certainly has the respect of his colleagues in the squad and it seems as if this a tournament made for the exuberant Blaszczykowski, who has been cashing on his national celebrity status by enthusiastically dealing with his numerous media and commercial obligations ahead of Euro 2012.
The Formation
In his 32 months in charge, Franciszek Smuda has gone through the tactical card, toying with a 4-4-2 - which star front-man Robert Lewandowski publicly was pushing for - a 'Christmas Tree' 4-3-2-1 and 4-1-4-1 featuring just one midfield holder.
Unfortunately the tinkering has produced little in the way of tangible improvements and on their own patch this summer, Poland are almost certain to line-up in a 4-2-3-1, the only formation the players seem comfortable with.
Smuda's aim is to have his side press high up the pitch and take a 'best foot forward' approach, going on the offensive with bursts of quick one-touch passing. Up against the top-class likes of a Spain, Germany or Holland, a cautious, counter-attacking game undoubtedly would have been the order of the day for the Poles, but in a first-round group widely considered the weakest of the entire championships (Greece, Czech Republic and Russia), Smuda's young side will need no prompting to pick up the gauntlet.
Wingplay is absolutely fundamental to Smuda's plans, especially the dynamic Dortmund right-flank tandem of Blaszczykowski and Piszczek.
The Weak Spot
The real danger for the Poles is that brilliant young keeper, Arsenal regular Wojciech Szczesny is effectively left to mount a one-man salvage operation at the back.
The Poles are alarmingly short of credibility in central defence and wherever you look in this area, there are severe concerns: the rather agricultural and ill-disciplined stopper Marcin Wasilewski; the broken elbow which has put at risk the participation French-born Damien Perquis and the non-selection of experienced veteran Arkadiusz Glowacki, who has been plagued with injuries of late.
Another danger zone is left-back, where Werder Bremen's Sebastian Boenisch is only just getting into the matchday swing following a year out with a knee complaint. Can he really be ready for a major international tournament?
In addition, Poland have difficulties with their staying power, unable to maintain a high-tempo for more than half an hour and patchy in their pressing efforts. Against the best in Europe, a 20-minute burst of mediocrity could be fatal.
Finally, there are questions over whether Poland have enough creativity in the middle of the field. The evidence presented by Trabzonspor's Adrian Mierzejewski and Ludovic Obraniak of Bordeaux is hardly convincing.
Injury Nightmare
If striker Robert Lewandowski was to drop out from this summer's main event, a large chunk of the Poles' chances would go with him.
Poland's Player of the Year for 2011, the Dortmund striker not only has been in excellent scoring form this term but also has an exceptional all-round game, boasting both the ability to come deep and link the play and intelligently run the channels.
The alternatives do not bear thinking about. Pawel Brozek has not figured too often since joining Celtic on loan from Trabzonspor in January, Kamil Grosicki is happier on the wing than through the centre, while Artur Sobiech has flattered to deceive in the German League with Hannover.
Young Gun - Rafal Wolski
An exciting young attacking midfielder who has proved a revelation for Legia Warsaw this season, two-footed Wolski is in his element taking on defenders and a good finisher. This 19-year-old may not be the most imposing physical specimen but he nonetheless very difficult to knock off the ball and with his wide range of ball-skills - especially a Zidane-like drag-back - he can be irresistible. He could well be a game-changer from the bench.
What they Say
""The group stage draw has been good to us. We can beat Greece and the Czechs and qualify for the quarter-finals, which is as much as we dare dream. It troubles me a little that rely more on magic from Lewandowski and Kuba than our ability as a team.""

Grzegorz Mielcarski, former Poland international
The Verdict
Ineffectual in every major tournament they have reached in the new millennium, home advantage and a certain lack of expectation could reverse the trend.