Tactical preview
Euro 2012 Tactics - Ukraine
ESPN's look at the plans of Ukraine this summer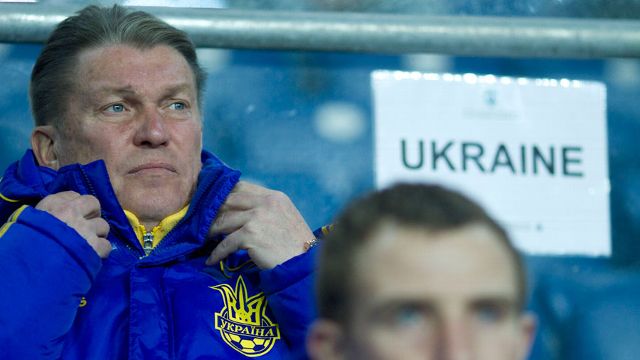 The Coach – Oleg Blokhin
There are some in Ukraine who question whether Blokhin is the right man to lead the national into Euro 2012, but he remains confident in the face of criticism. "We hear the cynics saying we are not ready for this tournament and there is only one response. Win, win, win," says this defiant soccer legend, who played 112 times for the old Soviet Union national team.
His success in guiding Ukraine to the quarter-finals of the 2006 World Cup finals meant he returned to the job last year with plenty of goodwill in the bank, yet his plans have been beset by injury problems and bickering within his camp in the run up to Euro 2012.
A no-nonsense type, he has demanded that players with hopes of making it into his side this summer needed to be playing regular first-team football with their club sides, yet the glut of foreign players flooding into the Ukrainian league has seen some of Blokhin's key men struggling for match fitness in the last few months.
Bold in his team selections in the non-competitive games that have been Ukraine's less than satisfactory diet in the run-up to this tournament, he seems to have stumbled across some formulas that may serve the co-hosts well this summer.
The Captain – Andriy Shevchenko
Shevchenko's health and fitness has been the subject of much conjecture in the run-up to Euro 2012, but this living legend of Ukrainian football seems to have allayed those fears as he prepares for the defining swansong of a record-breaking career.
Suggestions of confrontations with coach Blokhin were never likely to get in the way of Shevchenko taking up his spot leading his nation as they host their first major international tournament, yet there are still doubts over whether the Shevchenko of 2012 is still good enough to ruffle the feathers of the best defenders.
At his best, there is little doubt that this scoring machine was one of the best strikers in the world game, but those halcyon days at AC Milan are not but a distant memory. However, the reality that 'Sheva' will hang up his boots for good after Euro 2012 should give the striker Chelsea paid £30 million to sign for almost £31m in 2005 all the motivation he needs to go out on a real high.
The Formation
Coach Blokhin puts plenty of faith in Dynamo Kiev wide men Andriy Yarmolenko and Oleg Husiev, with his 4-5-1 or the 4-4-2 formation giving the duo freedom to express themselves and create attacking opportunities with their pace and flair.
The truth is, however, Ukraine are heading into Euro 2012 with a defined game plan still to be decided upon. With a dearth of competitive games in recent years, the national team have been endlessly experimenting, with a host of players and different plans thrown into the mix by a variety of different coaches.
Myron Markevych was the first man handed a chance to define Ukraine's Euro 2012 master plan, before a betting scandal did for him. Yuri Kalitvintsev was next in the hot-seat and when that temporary appointment failed to reap rewards, the decision was made to re-hire to Blokhin and he has set up a revolving door team selection policy ever since.
Dynamo Kiev striker Artem Milevskyi may have a key role to play if Shevchenko is not firing on all cylinders up front, with Bayern Munich's Anatoliy Tymoshchuk a rock-solid performer in the heart of the midfield battle.
The reality is that while a handful of first picks can be inked on the Ukraine team-sheet, the final identity of their team for Euro 2012 has yet to be fully revealed. It may mean Blokhin makes changes from game to game this summer as he looks to navigate his way to the later stages of the competition.
The Weak Spot
Harmony has not been in evidence within the Ukraine squad in the run-up to Euro 2012, with the animosity between the players of Shakhtar Donestsk and Dynamo Kiev an issue that could easily explode this summer.
The feisty encounter between Shakhtar and Dynamo in April served to deepen the divide between the two clubs and coach Blokhin needs to find a way of getting the warring factions who dominate his squad to ignore their domestic rivalries for this tournament at least.
The health, form and mentality of star turn Andriy Shevchencko has also been the subject of conjecture, with the suggestion being that the Ukraine legend does not see eye-to-eye with hardline coach Blokhin. Coach and captain need each other this summer, so they have to put their personal differences to one side.
Injury Nightmare
Losing any of the trio of Tymoshchuk, Yarmolenko and Husiev would be a hammer blow for Ukraine and while Shevchenko is well past his best, he offers a presence in the side that will concentrate the minds of the co-host's opponents this summer.
Milevskyi's importance to the side is also significant as he could be used in a 4-4-1-1 line-up with Shevchenko playing a little deeper should coach Blokhin decide the veteran skipper of the national team is a little too far over the hill to play in a free roaming strikers role and needs to play in a more confined area.
Young Gun – Bohdan Butko
This 21-year-old right back looks set to nail down a spot in Blokhin's starting line-up this summer, confirming his rise from the ranks of promising rising stars to established internationals is well on the way to completion.
There have not been too many fresh faces who have made an impression in an experienced Ukraine national side in recent years, but the 2009 UEFA Under-21 Championship winner has kicked the door down in time to take his spot at Euro 2012.
What they Say
""Our ambition should be the maximum because when you have a tournament in your home country, it is a once in a lifetime moment. I had something similar with Bayern Munich in the Champions League Final this season and now we have to take our chances at Euro 2012.""

Anatoliy Tymoshchuk (Ukraine)
The Verdict
Host nations tends to find a way to succeed and so long as Ukraine's star men do not allow their personal differences to get in the way of progress, they have a good chance to make it through to the latter stages of Euro 2012.